A High-end Juicer from Kenwood - the Kenwood JE910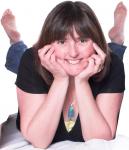 Review controls
An efficient, good looking, easy to use and clean juicer with citrus and centrifrugal attachments to handle citrus fruits, hard fruit and vegetables.
Buy Now
Kenwood JE910
Centrifugal Juicer
£99.99 from Comet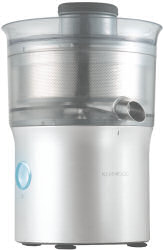 Today I tested the Kenwood JE900/910 Juicer. It comes with two separate juicing attachments - citrus and the centrifrugal. As you'd expect the citrus juicer is there for oranges, grapefruits, limes, and the like. On top of the brushed crome electrical unit sits a bowl, sieve and a citrus squeezer which is just the same shape as those you use by hand. There is a separate centrigruigal attachment which juices hard fruits and vegetables like apples and carrots. It was incredibly easy to assemble, and I'd say time from box to assembly, to reading instructions and go was probably less than 5 minutes.
There are 3 things you should look for in a juicer: how well it juices as measured by how little pulp is left over, how much mess it makes whilst juicing, and how easy it is to clean (oh and price of course!)
Of most importance is how well it juices. Fruit can be expensive, and over time a good juicer purchase will save you money in terms of waste. The Kenwood scored well on this. After testing out the Kenwood Multipro Food Processor the other day, I kept an open mind as to whether it was a good idea to get a food processor that did everything, or whether it was better to buy the juicer separately. Now I've had the chance to test Kenwood's standalone juicer I've really noticed the difference. Whilst the food processor with juicing attachments produced more pulp than juice, with the high end Juicerr reviewed here very little pulp was left. For example, one carrot and two apples produced a healthy 200ml glass of juice. On the citrus juicer 2 oranges gave me a 175ml glass.
As a small aside, I did note that the standalone Smoothie Maker and the Kenwood Multipro food processor both produced excellent smoothies, on a parr with each other.
On the messy side of things - again I'm impressed. The juicer I bought for myself a couple of years back spluttered everywhere and often missed the jug. With the Kenwood JE910, the spout juts out far enough that you can easily get a jug underneath with no mess. However, it does drip for a little while afterwards, so when you remove your jug or glass it's best to put something under the spout to catch the drips.
As for cleaning - this is very striaghtforward. The bowl and attachments easily remove, and the centrifrugal juicer attachment comes apart so that you can scrape the pulp into a composting bin.
A word of caution. this juicer is visibly and audibly more powerful that the food processor attachments. There is a knack to placing the fruit on the citrus juicer and holding it in place, and I did scrape my knuckles a little first time around. The attachment is plastic, so it did me no harm and I quickly got used to how to hold the fruit cupped in my palm. With both attachments the bowl and attachment have to be firmly locked in place to work. This is a standard and good safety feature, however, I did find the centrifrugal juicer shook a little on use and the attachments came slightly out of contact with the lock, hence stopping the machine. This wouldn't put me off buying the machine though.
All in all another excellent product from Kenwood, and yes I would recommend buying this standalone version rather than relying on the attachments on a food processor.
This is not a cheap juicer. At £99.99 it's very much at the high end,. However, it is quiet, clean, efficient and extracts the maximum amount of juice. It's also rather sleek and lovely looking in brushed crome finish. Having bough cheap before, I would definately recommend thinking high end in future - if you save £3 in fruit each week by making the invesment, it'll pay for itself within the year.