Nescaf Dolce Gusto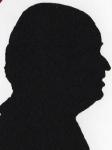 Review controls
A futuristic coffee machine that has special coffee and dried milk capsules (pods) that quickly combine to make currently four kinds of coffee that are top notch.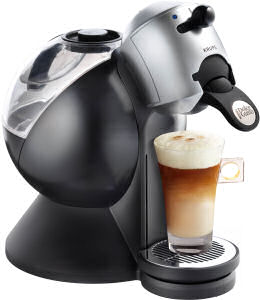 Currently the Nescafé Dolce Gusto comes with a starter pack of coffee and dried milk capsules as well as a cup/saucer and glass to give that coffee shop appearance. However the main thing with this machine is the speed of making a Cappuccino or Latte Macchiato both of which require a milk and a coffee capsule or an Espresso or Caffe Lungo that are drunk black and require just a single capsule.
If the machine is switched on cold water is turned into a hot drink in around 20 seconds. If you need to switch it on maybe that time doubles, however unlike almost all other coffee machines it does not pre heat the water. Cold water is passed over the heating element at pressure which means no stewed coffee.
It then goes into the capsule - milk first if applicable - giving that wonderful froth that is normally only achievable from a coffee shop and then you swap to the appropriate coffee capsule at whatever point in the cup to give the strength or consistency you like. As stated this whole process takes only around 20 seconds.
The machine looks a little science fiction the body comes in red, black or white. About 30 percent of a circular ball shape is a clear plastic receptacle that holds up to 2.5 pints of water. This is mounted on the hypotenuse side of a triangle - look at the illustration if lost - with a drip tray on the vertical side of the right angle, at the top is the serious bit where the capsules are inserted and then held in place. You then move a water bar to hot or cold - I am told that the cold setting is for a range of cold drinks being launched next year - and then 20 seconds later delicious piping hot coffee either with or without froth according to your choice.
I give a link to the website and I have been told that next year hot chocolate will also be available. For those able to read German I believe that this is already available there. I found this out as the various country sites are linked and the German one went live before the UK.
This was one of two items that I saw at the Autumn Ideal Home Exhibition, - the other a TV will hopefully arrive shortly - while there were other new things they hardly fell into the Gadget category.
I see this ideal in a house or very small office where people want coffee at vastly different times so perking a coffee pot is not really on. This is good coffee and don't be put off by my dried milk description. I originally called it a Crema but was told this is incorrect however dried milk does not do it justice either as I am sure we all have memories of something not very desirable, this is delicious however for Diabetics out there the mixture of milk includes some sugar, while it does not taste sweet it is there.
I have asked if a version could be made without sugar and the answer says it is being considered, but, at this stage they are unsure if it would be suitable for diabetics. I also asked what the cold setting was for and was told for products yet to be launched.
The machine with the starter set of cup/saucer and glass as well as two each of Café Lungo and Espresso capsules as well as three each of Latte Macchitao and the Cappuccino plus the same number of milks for each. A word of warning here the capsules of milk and their appropriate blend of coffee look identical from the face however the sides of the coffee are black and the milks are white. I could not find this explained anywhere in the instruction booklet.
The stated UK price of the machine is £89.99 and the replacement capsules are sold in boxes of 16 in the case of the Latte Macchitao and Cappuccino that's eight coffees and eight milks these I am told will be available from ASDA, Morrisons, Sainsbury's Tesco and Waitrose at £2.99.
One of the best prices at the moment (November 2009) is Amazon with the Dolce Gusto available for £77.25 including free delivery on the following link :
http://www.amazon.co.uk/gp/product/B001GIOQLO?ie=UTF8&tag=gadge0a-21&linkCode=as2&camp=1634
The first link below has it at €113,80 including free delivery.
http://www.amazon.fr/Krups-Nescaf%C3%A9-Dolce-Gusto-YY1282FD/dp/B000VZ4W9O
Information from the Nescafe site :