Ricoh R10 Compact Digital Camera

Published Dec 22, 2008 Author
petew
Review controls
A flexible compact digital camera with a 10M pixel sensor and some impressive features, all at a reasonable price. The R10 is aimed at the amature photographer that wants to go beyond point and click photography.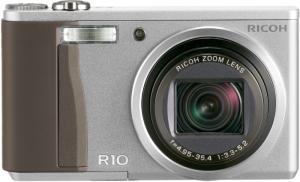 click image to enlarge
Measuring 100 x 60 x 27mm (WxHxD) and weighing around 200g, including battery the R10 feels very solid and is large enough to sit comfortably in the hand. Internal storage is very limited and generally you'll want to insert a separate SD card. The camera supports both standard and the more recent SDHC conformant cards up to a maximum capacity of 16G bytes.
Optically the camera has an impressive 7.1x optical zoom that gives a 35mm equivalent focal length between 28mm wide angle all the way through to 200mm zoom. At it's widest setting you have an f3.3 apperture that closes down to f5.2 at maximum zoom. Although this is somewhat darker than the GX200 I recently reviewed the results were nevertheless very good.
The zoom can be controlled either in fully variable mode or 'step' mode where each nudge of the zoom steps the lens through one of 7 different setting. In variable zoom mode although you have two speeds of zoom I personally found both too fast to accurately control the amount of zoom and would have prefered something slower. A macro setting will allow you to focus all the way down to 1cm.
The good quality zoom lens is complemented by a shutter that will operate all the way from 8 seconds through to 1/2000th of a second - depending on mode. An electronic CCD-shift (Charge Coupled Device) image stabiliser will help you reduce the effects of camera shake in low light conditions or under high zoom.
The rear of the device is dominated by the large bright 3" LCD display the shows both status information and acts as viewfinder - there being no optical viewfinder on the R10. To the left of the display are a set of five buttons and a joy-stick navigation control.
The top of the camera has a raised shutter release button and an inset 'mode' rotary control. There are a number of modes: Easy - which allows for 'point and click' photography and the ability to tweak a sub-set of the available options; 'Normal' (called auto) in which all settings are available; Scenes; Movie; and two modes marked 'my1' and 'my2'. The last of these allow you to save two personal shooting settings and to automatically put the camera into that mode.
Although the camera has automatic focus this can be over-ridden with manual focus. If you select this option however, focus is achieved using the same control as zoom - so you can't do both at the same time. It's a little fiddly.
Regardless of the mode there is no semi-automatic option in which you can control either the aperture or the speed which means that the more technical photographer will miss the ability to easily control depth of field.
The R10 has a huge range of options - which vary depending on the shooting mode. In my short time with the camera I've only scratched the surface of what's available. All the options are accessed via a multi-level menuing system which does work but I found a little counter-intuitive. It can take quite a while finding the option you want so don't expect to make quick changes to capture that once in a lifetime shot!
A high capacity battery is supplied along with a charger. A full charge is claimed to be sufficient to take 300 pictures. I've taken a large number, many with flash and battery still claims to be almost fuly charged.
As well as still image capture the Ricoh is also capable to recording video in AVI format. Frame rates of 15 or 30fps are available in either 640x480 or 320x240 resolution. Assuming you have the memory use the higher settings, which give pretty good results. A one minute video at the highest quality settings resulted in a 72M file.
As well as plenty of photographic options the R10 also provides a good number of photo editing and browsing tools. This is ideal if you prefer not to use a computer and to print directly to your printer. You can change the image resolution and crop images using this tool.
The Ricoh R10 comes complete with a comprehensive printed manual that makes sense (good Englis, doesn't simply repeat what's on the menus). Although you can use the camera in point-and-shoot mode, you'll be wasting around 90% of it's capability and you may as well buy a cheaper less functional model. To get the most out of it make sure you do give the manual a good read.
Although the camera does have a lot of features I did find many of these difficult to set because of the way most things are accessed through the menus. Given the number of functions a few more buttons would probably have been very useful.
The Ricoh R10 is priced at £179 from Amazon, which is a good price for a camera with these capabilities:
http://www.amazon.co.uk/gp/product/B001GVTH2E?ie=UTF8&tag=gadge0a-21&linkCode=as2&camp=1634