Ricoh GX200 professional compact camera

Published Nov 13, 2008 Author
petew
Review controls
Ricoh has quite a history in camera design and development dating back over fifty years. The latest GX200 camera continues their tradition of robust quality.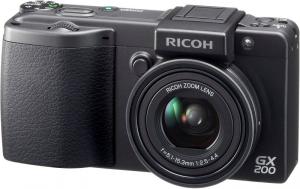 click image to enlarge
My own history with Ricoh dates back around thirty years when the first 'real' camera I was allowed to use was my fathers compact 35mm range-finder camera. I was allowed to take it away on a school trip! The results even in my inexperienced hands were good. That experience led to my 18th birthday present of a Ricoh KR10 SLR camera. Over 25 years later I still have that camera along with a couple of Pentax K-mount lenses.
My own interest was piqued when I heard Ricoh had won a Good Design Award this year for "longevity of design".
I was keen to see how Ricoh have transitioned from film to the digital age with the GX200. Listed on the Ricoh web-site in their 'professional' section the GX200 is no toy and definitely feels built to last as long as my old KR10. The camera itself doesn't look anything particularly special, however the solid black body hides a wealth of features that will be alien to the majority of people these days familiar with a fully automatic point and click system. That is not to say the GX200 will not operate in that mode, but then you'll only scratch the surface of it's capabilities.
GX200 hardware
The camera comes equipped with a 12.1M pixel sensor that will capture images from the high quality built in zoom lens. The lens has a 35mm equivalent focal length between 24mm to 72mm which covers everything from wide-angle through to decent telephoto. There is also a macro mode that will allow you to focus all the way down to 1cm. At it's widest setting the lens provides a F2.5 aperture that closes down to F4.4 at maximum zoom.
Between the lens and the sensor Ricoh have a shutter capable of operating down to 1/2000th of a second and all the way up (in automatic mode) to 2 minutes.
As is common with digital cameras these days the GX200 does not include a viewfinder (but be patient and read on!). The rear of the device sports a bright 2.7" LCD panel along with menu and zoom controls. The top of the camera has a traditional rotary control to determine camera mode along with shutter release and power.
A built in flash can pop-up when required. While this is great for snaps a hot-shoe connector will allow the GX200 to take a standard higher performance flash, or connect to other lighting equipment.
Although the camera does come with 54Mbytes of memory this really isn't going to get you very far. Bulk storage is via a standard SD card slot that will accept both standard and the more recent SDHC (High Capacity) variant allowing up to 16GB of storage.
Power for all this hardware comes from an included high-capacity Li-ion battery. A full charge from this will last you in the region of 350 photos, depending on what options you choose. Of course Sods law dictates that when you really need to take a picture the battery will invariably be flat. Ricoh cleverly allow the option to insert standard AAA cells (either alkaline or rechargeable Ni-mH). They won't last long - around 30 pictures - but enough to get that unique sunset.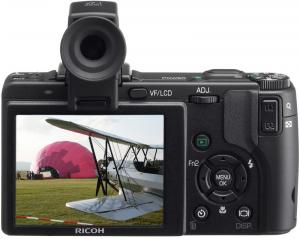 click image to enlarge
Camera Modes
Of course you can simply set the GX200 into fully automatic mode and let it do all the work. In most situations you'll not be disappointed with the results, however you don't buy a camera like the GX200 to let it do all the work.
At one extreme you can place the camera into fully manual mode allowing you to control the aperture, shutter speed and focus. This interface is handled very well using two 'adjusters'. One controls the speed and the other the aperture. A simple flick of the relevant control one way or the other increases or decreasing the relevant parameter. A 'balance' meter on the LCD screen provides feedback on how well the camera thinks you have the two balanced - which you can of course ignore in the interests of art!
There are a range of modes between fully automatic and fully manual including more traditional 'aperture priority' in which you choose the aperture you want in order to control the depth of field and the camera compensates by adjusting the shutter speed.
There are plenty of more 'modern' shooting modes that were unheard of in the older 35mm days, and some that are now just easier. A 'scene' mode allows you to select between Movie/Portrait/Sports/Landscape/Nightscape/Zoom Macro/Skew Correct Mode/Text Mode (oh yes - of course all cameras these days will shoot video!).
One interesting feature is a 'level' indicator - like an electronic spirit level. Switch this on and you can make sure you have your camera level when you click the shutter.


click image to enlarge
Images and Video
The GX200 will store a range of image formats and resolutions all the way up to 4000×3000 pixels. These can be held in either compressed JPEG or RAW (via the Adobe DNG format), that latter being literally as the image is captured allowing professionals to do all the processing themselves without first loosing information through compression in the camera.
Video can be shot in a range of resolutions and frame rates, the highest being 640x480 at 30fps. Video is stored in AVI format.
When the sun shines...
As I've already said the GX200 has no built in viewfinder. Many people are happy with a screen these days - but of course the best screen is virtually useless in bright sunlight. Ricoh have a solution to this that involves a clever little snap on view-finder. It's actually a tiny LCD screen and eyepiece very much as would be found on a cam-corder. This simply replicates the display you would have had on the rear screen and so you have all the image information available. Given the image is being generated from the camera sensor you have effectively all the feel of a full SLR at a fraction of the bulk.
While the viewfinder works very well it seems much more suited to occasional use by those that are happy to use a screen most of the time. My own preference is to always use a viewfinder - the only use I'd have for a screen is to preview images I'd already taken. The viewfinder does however feel very exposed and I'd have concerns about it's robustness if left permanently attached to the camera. I took the GX200 out on several trips, both out walking and down to an event in London, both times with viewfinder, and it does tend to get caught as you slip the camera into bag or pouch.
Image quality
Very good. Despite being somewhat out of practice and being faced with a camera an order of magnitude more sophisticated than my now ancient KR10, I was more than happy with the images I managed to take. I'm not going to include any here - by the time I compress down to something suitable for use on a web page all the quality would have gone!
Flexibility
One of the great advantages of the traditional SLR camera is the ability to interchange lens. While this isn't possible with the GX200 there are a couple of converter lens that snap over the main lens. The first of these allows you to extend the wide angle to 19mm (equiv.) - down from standard 24mm. The other allows you to increase zoom from a maximum of 72mm all the way to 135mm.
Summary
The GX200 continues the long tradition at Ricoh for delivering high-quality photographic products. This particular model takes me back to that original Ricoh camera so many years back - providing many of the functions of a full SLR without the bulk. The built in lens covers the most useful zoom range ideal for wide angle landscapes through to portraits, and the versatility can be further extended by converter lenses.
Image quality is very good and despite the wide range of options the menu structure and display are fairly intuitive. I would however suggest a thorough reading of the excellent 250 page manual provided with the camera if you really want to get the most from your purchase.
Given the GX200 is giving you most of the benefits of an SLR, simply in a more compact design, it's not surprising that this camera is toward the upper end of the price range. Searching Amazon I found the Ricoh GX200 available for £348.99 which includes shipping. This includes the detachable VF-1 viewfinder.
While this is quite an investment it is ideal for those that are over the novelty of poor quality, but convenient camera phone, or cheaper digital devices and want to get back to - or learn about real photography. A warning though - it can be addictive!