SSD Drives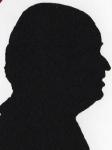 Review controls
SSD drives are more expensive than standard hard drives but they are faster. Here I am looking at an internal unit from Kingston and also the first USB3 external unit I have seen, this from OCT technology it is called ENYO.
Kingston SSDNOW 200V+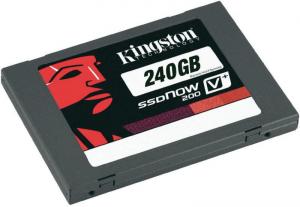 click image to enlarge
This is described as a performance upgrade kit and everything that you will need is in the box, apart from the screwdriver.
Included are the 240GB drive, all the brackets, screws and cables and even a caddy to place your old hard drive in so it can finish its life as a USB drive the cable is supplied. Finally a CD-ROM with rather good disc cloning software.
The logical use would be to make this your boot drive as it can cut startup times, if you are installing in a desktop machine a little work will enable your original drive to be a store unit. Few notebooks have space for a second drive and that's where the USB caddy comes in.
The software provided means that providing the total used space on your original drive is less than the SSD unit makes transferring data and operating system easy. If not you will need to do some pruning to get the size down.
Once installed just say what a good buy this was and find something to do with the time you saved on every bootup. This model is available in sizes from 60GB to 480GB. It is described as a business item mainly I suspect because of price. My thought would be small business or SOHO as it comes as a kit almost anyone can fit.
This unit comes with a three year warranty and has self encryption. The Kingston SSDNOW 200 V+ 240GB unit as reviewed is available from the first link below for £177.43 including delivery.
http://www.amazon.co.uk/gp/product/B006YLTSSO?ie=UTF8&tag=gadge0a-21&linkCode=as2&camp=1634
http://www.kingston.com/en/ssd/vplus#svp200s3
ENYO USB3 Portable SSD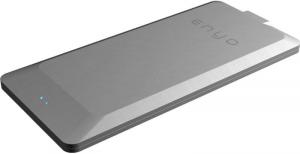 click image to enlarge
With USB3 offering faster response times it surprised me that I had not come across such a unit before. It is 12x5.5x1cm and weights 76grams. The box contains the drive and a 1metre USB3 cable. Just plug in to a port and it will be recognised as a drive. It is even backward compatable so will work if your PC or notebook only has USB2. In fact I even dug out an old notebook that only has USB1.1 and it works on that, so totally compatible.
When it is connected two small blue pin hole LEDs stare at you from the front top of the unit. They flash when data is transferred. In my first test I copied 3GB of files so quickly that I thought nothing had happened but they were there.
It is a 128GB unit which actually gives you 119GB of space. While I am reluctant to offer speeds as it always depends on the PC you are testing it with and the size of the files you are copying but I got close to 200MB/s when reading and around 190MB/s when writing this was with a mixed collection of file sizes, I found larger video files were a little faster as you might expect.
For anyone who needs to take large video files with them maybe their 256GB version might be better but I was more than happy with the 128GB version supplied to me as even copying files via USB2 was rapid and as I said earlier via USB so fast I did not think it had happened at all.
The only UK source I could find is 'currently out of stock'. I found the smaller 64GB available via eBay for £99.
http://www.amazon.co.uk/gp/product/B003JTUYN2?ie=UTF8&tag=gadge0a-21&linkCode=as2&camp=1634
Looking at the OCZ site on the link below shows timings for various actions using all three versions of USB to do copying of various file types.
http://www.ocztechnology.com/ocz-enyo-usb-3-0-portable-solid-state-drive.html