Samsung 27inch Screen (S27A350H)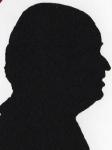 If you are in the market for a large flat panel then certainly this offering from Samsung should be on a very short list. It is described as a 27inch monitor but for something so big it is not heavy or in any way really bulky.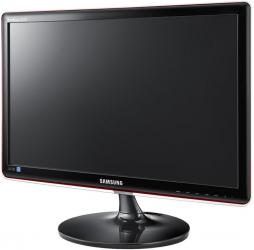 click image to enlarge
The screen is 64.5x39x2.5cm. The base it stands on is oval at 28.5x23cm and it raises the screen by 9cm from your desk.
The screen has a few degrees of forward movement and around 15degrees of backward tilt, there is no side to side movement.
The viewable area of the screen is 60x33cm giving the diagonal imperial measurement of 27inches.
I used this attached to several PC's of varying vintages running XP, Vista and Windows 7 at up to 1920x1080 and all worked correctly. These included a Netbook whose native resolution is 1024x600 but output is possible at the full HDMI resolution and for anyone carrying a Netbook around this looks great when working fixed.
On the rear there are three connections, VGA, HDMI and the DC current input all in a single line and all accessible.
The support arm is a better design than a lot of others for those who need to move the unit about as the link is in the arm itself. So no screwing it into the unit a small part of the arm is attached to the panel and the connection is made there.
The front right below the screen has five touch buttons to control the unit, the rightmost one –on/off- is probably the only one most will need. However as always I tested all the others and they did what they should, there was plenty of extra brightness and contrast available but I always returned to using the 'Auto' setting.
Unless you are very short sighted a 27inch panel to show a standard Windows screen is rather over the top. In a word processor you can happily display two pages and using a spreadsheet does allow a lot of cells to be shown.
Of course most will use it to watch DVD's and Blu-ray movies powered by your PC or notebook and here it excels my sofa got good use watching more than was strictly required to test the capabilities of this panel to the full.
As a test I used my 32inch TV to display the same movie and while this was a little further away the results were more vivid and watchable on this Samsung panel. I especially found more sharpness and clarity in darker sequences.
Not having internal speakers means that you need to use those of your PC/notebook when viewing but the slimness of the panels housing really make their inclusion impossible. I remember my first 17inch monitor (remember this panel is 27inches) and if you picked that up you certainly had somewhere cleared nearby to put it down again very quickly. I know the technology is vastly difference but size can now come without weight.
If you want to know about Mega Dynamic Contrast Ratio that gives the clarity and depth of image even on things like static Windows desktop images then may I suggest that the Samsung link (2nd link) is where to look. You can also make yourself feel good when you take control of your energy saving possible with this panel.
The Samsung S27A350H LED panel is available for £279.94 including delivery from the first link below.
http://www.amazon.co.uk/gp/product/B004O6ADDA?ie=UTF8&tag=gadge0a-21&linkCode=as2&camp=1634
http://www.samsung.com/uk/consumer/pc-peripherals/monitors/design/LS27A350HS/EN