Creative Inspire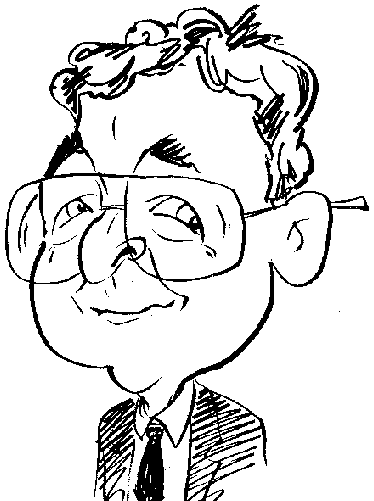 Review controls
Creative has added to its range of speaker systems with the release of a new model in its Inspire series.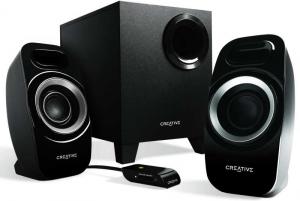 click image to enlarge
Although Creative has put a lot of effort into the development of its Sound BlasterAxx™ generation of Bluetooth wireless single speaker units, the company has not neglected the more traditional offerings of a speaker set up made up of a subwoofer with attached satellite speakers. As a result Creative has launched its new Inspire™ T3300 speaker system. This is a 2.1 system made up of a subwoofer, two satellite speakers and a permanently attached remote control unit.
I have to say that unpacking this kit, with leads being fed through various cardboard containers, was not the easiest of tasks especially as I try to avoid ripping everything to shreds in my eagerness to get at the goodies. Eventually I was faced with a predominately black combo and a number of leads that were permanently attached at one end to either the subwoofer or one of the satellite speakers.
Central to the system is a fairly solid subwoofer measuring 160 x 214 x 243mm (W x H x D) including the four stubby feet that raise the box slightly off the ground so allowing for a better bass experience. Permanently attached leads at the rear of the subwoofer provide mains power connection (a 136cm lead) and a lead measuring 140cm to the remote control unit. The remote control unit has dimensions of 30 x 60 x 15mm (W x L x D) and features a side-mounted on/off/volume wheel and a power light on the front. Branching out from the remote unit is another lead of 157cm which ends with a 3.5mm jack plug for linking to an audio source whether that is a PC, notebook or one of the many popular mobile devices. There is also a socket for attaching the satellite speakers and a knob for adjusting the bass level.
In comparison to the subwoofer, the two satellite speakers are rather lightweight with a more plastic feel to them. Each speaker has dimensions of 86 x 177 x 93mm (W x H x D) and is permanently attached to its partner via a 268cm lead that contains a 3.5mm jack plug positioned half-way along this length.
While I was initially pleased to discover that Creative had been reasonably generous in the length of the various leads making up this package, this feeling of goodwill was quickly dissipated somewhat. No matter how carefully you place leads, they seem to make a conscious effort to become entangled with each other or with anything else that is in their immediate vicinity without any apparent intervention from a human. Every time I untangled these leads, it was not too long before the task needed to be carried out again.
But enough of leads, lets return to the actual technology behind this speaker system. As part of its design concept for this speaker system, Creative has developed Creative Image Focusing Plate (IFP) and Creative Dual Slot Enclosure (DSF) technology which has been integrated into the Inspire speaker system. According to Creative, the IFP is designed to allow the satellite speakers to provide "an increased acoustic throw to the user's listening area". This effect promises to produce a wider acoustic sweet spot. IFP is also meant to create a "gentle flare" around the drivers to improve the overall efficiency of the speaker without affecting tonal balance.
DSF allows a port tube to be fitted in a tight enclosure through the use of two overlapping sheets. This approach aims to improve frequency distribution by delivering more bass and louder playback.
This speaker system needs to be switched on from the remote control unit which also provides volume control. With 5.5 watts of power from each satellite and 16 watts from the subwoofer, the Inspire T3300 can deliver plenty of volume whether you are playing games, watching videos or listening to music. The Creative Inspire T3300 will be available from selective retailers, including Amazon.co.uk, priced at £49.99.
http://uk.store.creative.com/speakers/inspire-t3300/4-21417.aspx