Mio Fuse for iOS or Android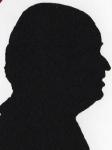 This is the latest fitness device to come my way, as I am now using Android 5 it should link without problem, it is stated to work with later versions of Android 4 with low power Bluetooth 4 and that is what you should check before purchase.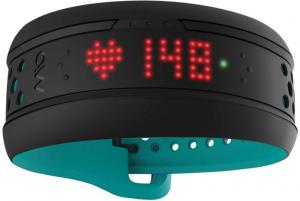 click image to enlarge
Fully stretched the strap containing the Fuse reaches to 25.5cm; it is black rubber on the face and red rubber on the back.
Download the App from the link given in the Quick Start Guide. Charge the Fuse from either a plug front or any PC USB port and you are ready to sweat.
While the Fuse displays a range of things on the solid central area of the strap you set it up with what to display and when to vibrate – if required – within the App.
The small Quick Start Guide has four pages in English and should be enough to get you up and running. However there is more information in the full manual which you download and this contains details of how to do such things as turn the Pulse (Heart Rate) monitor off.
I am sure anyone who has used a chest strap to get heart rate will cheer heartily that this gets the information from your wrist.
I spend a few minutes setting up the device on my SmartPhone and because it uses Bluetooth 4 having this left on does not hugely affect battery life, but you can still turn it off if you wish but each time you start the Mio App it will ask for permission to turn Bluetooth on if you default to having it turned off.
Having gone out for the afternoon I found that I was soon annoyed by the continual vibration as it vibrates when you reach a point and then again when you drop below it and at my normal pace my pulse was just on the threshold so lots of vibrations. It can be turned off but only in the settings which live on the SmartPhone.
Setting Heart Rate on is easy and the figures it read on the Mio Fuse display seemed to be correct but turning it off again proved difficult the instruction of 'Touch and Hold Button A' should be simple enough but I found to do so took numerous attempts and when I eventually got it to go off it was only when the watch was removed from my wrist and placed on a solid surface.
I tend to like to have the display uppermost on my wrist and Mio recommend under the wrist but both seem to give accurate readings. You can also set left or right wrist in the Settings the difference is how the clear red display shows on your wrist.
You swipe the central area to get either a one or two second display and this can be of time, steps or various other information including calories burnt. You can have a continuous readout if required but the easiest is by using the various coloured LEDs shown at the edge of the display these go from light blue through green yellow purple to red according to the settings you have chosen which are easily changed.
There is also a 'small' version with black and green colouring for those with smaller wrists currently at a few pounds less.
The Mio Fuse is available from the first link below for £117 with free delivery.
http://www.amazon.co.uk/gp/product/B00MYK59TQ?ie=UTF8&tag=gadge0a-21&linkCode=as2&camp=1634
http://www.mioglobal.com/Mio-FUSE-Heart-Rate-Activity-Tracker/Product.aspx?ProductID=30