Immerse VR Headset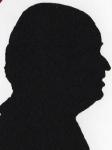 While I have seen several of these demonstrated most bore a higher price and while I did ask to see one it never materialised, so when this was offered to me I took the change to test it with a couple of recent mobile phones and appropriate content.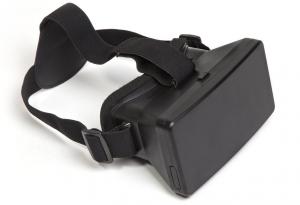 click image to enlarge
For anyone who is not sure VR stands for Virtual Reality and it is branded by Thumbs Up who I have reviewed several very good speakers from. Here this items settles on the video side to give you 3D from your standard phone in a near skull cap.
Three 3cm wide elasticated strips are at either side and on top of your head they all join at an 8cm triangular patch at the back of your head which forms the virtual skull cap.
The eyepieces are surrounded by foam rubber all along the top and sides which together with the elastic form a seal around the sides and top to keep external light out. There is an indentation at the base for your nose in the base of the surround.
The front of the case – where your phone sits – is 15x9cm, at the sides it is 11.5cm from the front to the back of the foam rubber and as little as 5cm from the front to the indent for your nose.
A push in catch at the top centre lets the front open outwards and aa area 15cm long by 5.5cm wide holds your phone in place.
The two phones I tested it with were one with a 4inch imperial diagonal measurement screen and one with a 5inch imperial diagonal measurement screen. The second was a tight fit but according to the instructions it will take phones with 3.5 to 5.7inch screens.
Talking of instructions there are three sides in a multi language Instruction book. The main thing that may not immediately seem obvious is that both eyepieces can be rotated individually so if your eyes differ – as most will – you can get perfect focus for both.
There is a safety instruction worth obeying in that it recommends that you spend no more than two hours at a time to avoid eyestrain.
3D is actually fooling your eyes and the advice is good so if you start to feel strange stop, some people are incapable of viewing 3D at all and of course those with things like epilepsy should seek medical advice before using such devices.
There a lots of suitable items to play at the Android Play Store and I assume also at iOS Store.
I was surprised that both the 4inch and 5inch phones worked exactly the same giving real 3D views.
Fitting the phones in initially you have to be careful that the support arms do not touch either the volume buttons or indeed the on/off button for obvious reasons. Sound is OK from within the headset using the phone speaker but there are outlets at either end to connect to either external headphones or speakers using your phones 3.5mm socket. With separate eye adjustments inside the headset it should have been easier to get the balance right.
The Immerse Virtual Reality Headset is available from the link below for £29.95.