40-inch SmartTV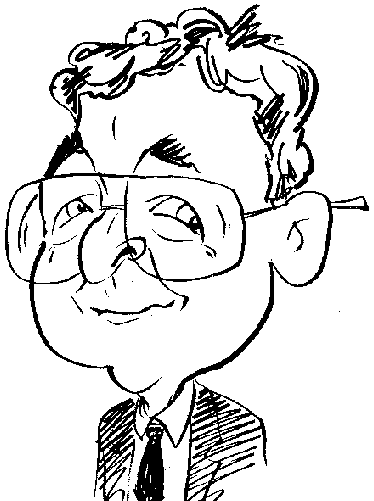 I am old enough to remember sitting with the rest of the family around a small box in the corner of the room and watching a potter's wheel in operation. I may have forgotten many of the light entertainment programs being broadcast by the BBC's sole channel during that period but that potter's wheel is firmly entrenched in my memory of early television. Nowadays the screen of that box in the corner has expanded in size while the box's depth has reduced considerably as it grants the viewer access to numerous channels that attempt to cover a wide range of subject matter. One such modern style television, or should that be media display centre, is Samsung's SMART TV UE40F6400AK offering.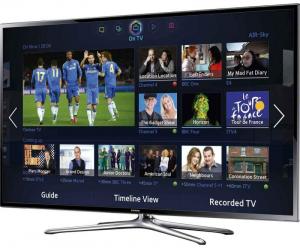 click image to enlarge
This is the third model that I have checked out from the Samsung SMART range of flat-screen TVs. As its title might indicate, this unit has a 40-inch display which is mounted on a silver base in the shape of an elongated "x". Eight screws are provided to ensure the base is firmly attached to the display panel. This operation, including removing the parts from the packaging, is best carried out by two people although it is possible for one person to perform the task.
Apart from the infrared facility, all the various connection options are located at the rear of the unit. Group together on the right side of the panel's rear are three USB ports and four HDMI sockets for connecting various peripherals devices such as a keyboard, mouse, external disk drive for storing save content, optical player, etc. There are also a SCART, LAN, Aerial and component socket options. To help keep the various leads under some sort of control, Samsung has provided a wire stand. You also get a Common Interface Card Adapter if you subscribe to any paid-for service. The mains power lead is situated on the left side of the panel's rear.
When controlling this SMART TV, Samsung gives you the option of using a traditional style remote control unit or one that is based around a touchpad unit. While the traditional style remote control is ready for action once you have inserted the supplied two AAA batteries, the touchpad unit requires an additional step before it can be put to a useful purpose. It will need to be paired with the SMART TV. The pairing button is located within the battery compartment. A fingernail of a reasonable length will aid in the removal of the battery cover. Although the touchpad remote contains a built-in microphone for issuing a few basic commands such as "Guide", "Select", or "Focus up/down" and the capability to bring up an on-screen control display, I felt more at home and comfortable with the traditional style unit but I can understand that others might prefer the touchpad model.
When first powered up, an initial set-up process will be activated. This will provide on-screen instructions as you make the appropriate selections regarding topics such as language, picture mode, channel scanning and network connection. The latter option can be either wired or wireless and will be required to access online services and web browsing.
On subsequent power-ups you will be presented with a rather busy arrangement of options headed by icons to switch between Social, Apps, OnTV (the default), Films and TV Shows, and Photos, Videos & Music. As you scroll between these options, a carousel of available choices will be displayed. With the default OnTV options you are shown a medium sized windows showing the last accessed TV channel with six smaller windows showing the title of the current programme being broadcasted on the next six channels in the list of those scanned. Below each one with a progress bar showing how far along each programme has reached. A further six smaller windows run across the bottom of the screen showing what's next on various channels. Completing this screen are shortcuts to Guide, Timeline View and Recorded TV.
As you would expect the Social section reveals links to social networking options that are categorised under headings designated as Friends' Picks, What's Hot, Friends and Video Call with the latter requiring Skype to be one of your downloaded Apps. This particular App can be located along with many others in the Apps section which categorises its offerings under headings such as Most Popular, Video, Game, Sports, Lifestyle, Information and Education.
Options to check out a range of content are available in the Films and TV Shows section. You can scroll through categories designated as Favourites, Featured, Movies and TV Shows before making a selection and purchasing your choice through your Samsung account. The final section gives you access to your own library of photos, videos and music stored in various locations such as removable media attached via a USB port or anywhere on your home network.
Even though the BBC has announced in withdrawal from the production and delivery of 3D material, there is still content available from other sources. This panel is 3D compatible and should be able to handle this type of content. Samsung has included two pairs of 3D Active Glasses in the box. You will need to attach the ear wings and insert the button battery into each unit before running a simple pairing process with the display.
A number of 3D demonstration clips are included as part of the Apps section but unfortunately I was unable to view any of them. Whenever I tried a message appeared stating "Service is unable due to a network or service interference". Pressing the 3D button on the remote control unit brought up a second message which read "Unable to show in 3D because an application that is incompatible with 3D is currently running". This problem did not occur with the previous Samsung SMART TVs that I had looked at using the same home network set up.
Overall this is a well designed SMART TV with a range of features to add to the basic television viewing experience. The problem with 3D viewing was disappointing and I have yet to discover the reason for it or a solution. An Internet search has revealed that this product should be available for around £600.
http://www.samsung.com/uk/consumer/tv-audio-video/television/led-tv/UE40F6400AKXXU