Cello Battery TV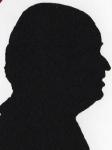 This is a full size (22inch or 32inch available) TV that can run off an internal battery pack, mains power or even off a car cigar lighter socket. Best of all it comes with everything you need even a Philips screwdriver and an external aerial.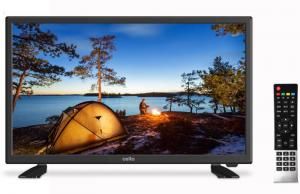 This rechargeable LCD television measures 38x30x8cm, my unit was the 22inch model, the viewable screen was 48x26.5cm this gives the notional diagonal imperial measurement of 22inches.
This is a first for me a TV that can run off an internal battery pack, while it is of course ideal for caravans it is also useful for anywhere that suffers regular power cuts and it can even power a couple of low power lights which are supplied with the unit complete with the LED bulbs.
It comes with a 30x30cm flat aerial and I was not expecting a lot mainly because most aerials I have tried – other than loft offerings – give at best a dodgy signal which only pick up a small number of channels. I turned the TV on and went through the channel setup expecting maybe around 50 channels but was shocked it found 176 channels which include radio and data offerings, some of these are scrambled, but everything that was unscrambled gave a good solid image. I then decided to try the HD options and some of these did break up and freeze on occasions but remember I am using a flat aerial just laid flat on top of a couple of boxes near a window, if you used a couple of bits of blu tac and stuck it to the window surely even better.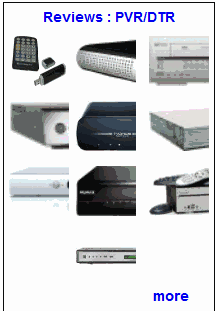 The left side is where the aerial plugs in along with a satellite input, component interface and four USB inputs including one for phone and tablet charging.
Under the overhang above the units feet are VGA, two HDMI, headphones, mains or solar panel input to charge the internal battery and the two light fitting sockets. Beside this is an on/off flip switch. Also on the base is a red LED that glows when the battery is charging and shows green when the unit is in use.
I found that the supplied battery charge to mains adapter gave this unit 12 hours of use (10 hours claimed) with an on screen indicator of battery state shown when you change channels, this tended to be less than accurate as only after around four hours of use did it move from full to around 80% and even after ten hours still showed 60%.
The unit comes with a full featured forty four key remote control.
This unit can also record programs if you insert a USB stick in one of the USB sockets and set the recording time from the EPG to set the channel and then set the start and finish times in SD I found a 60 minute program took just under 2MB of USB space, note this is a single channel record so if you watch and record ideal for programs that are 'unavailable' to watch on iPlayer etc. When recording there a small red circle with a white > in it to show recording.
For those times the remote control vanishes basic controls are available on the right side of the TV near the base.

A nice TV great reception even with the 'Smart Aerial' supplied and the low power LED bulbs are a nice extra for when there is no electrical power available. A solid build and it's made in the UK.
The Cello Battery TV is available from the link below for £148.99.
https://www.tv-village.net/products/product_details/191