Samsung Smart TV UE48H6200AK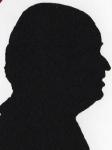 Review controls
I had a few days of watching my own 32inch TV before I had at accommodate yet another 48inch TV from Samsung; this was not a curved screen offering so it was even a little bit larger than their recently reviewed item.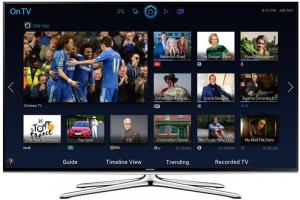 click image to enlarge
I was expecting the 40inch model and to accommodate 48inches is always a squeeze. Its not the overall weight as they are all very light these day but the size to sit on the unit I place them on, its all down to the size of the stand as an overhang of the screen either end is acceptable.
It is 107x71.5x4cm on the stand. The stand itself is a sideways 'x' shape this is 67cm wide at the front and back and 34cm wide at the sides. The total weight of the TV with stand is a tad under 13kilos.
The viewable screen is 106x59.5cm which gives the notional diagonal imperial measurement of 48inches.
When watching films of 40s there are 13cm black strips either side, these still look excellent assuming the firm print is up to standard.
The stated figures for power consumption are 59W when on and .3W in standby. The stated annual energy consumption is 82kWh this last figure assumes you use it for four hours a day every day of the year.
The only documentation is a 32 page LED TV User Manual that just about covers setting up and using the remote as well as connecting to a network. What is not covered is what connections you have at the back for these you will need to download the E-Manual.
Having downloaded the 239 page manual in PDF and gone through it even that does not tell you the connections. So you might say look that is easy for some but when in place in the corner of my room not for me. Yes I connected my aerial and plugged in the power lead, I also attached my PVR but that was all before it went into place.
So no choice but to twist myself into a position not reached for sometime and tell you that in a column down the right side are three USB, two HDMI and aerial input. On the left of the back the power lead plugs in and on the right side of the back two more HDMI, Ethernet, SCART, a set of Composite connections and an optical connector.
The 49 key remote controls everything, at a couple of places in mentions a second Smart Remote – not supplied to me – but as the previous unit had one it makes control of certain features easier.
One feature I could not make function was PIP (picture in picture) which when I went to where it should be I just got not available. It certainly is mentioned in the PDF manual.
Picture quality was good, plenty of contrast and brightness to spare, sound was OK.
For me 48inches is large possibly just too large but with the latest TVs that is almost entry size.
I had only a few days between the joy of the recently reviewed curved screen model to revert to my own 32inch offering before this came in. I missed PIP as there is still a lot on with various sporting programs and flicking between channels happened a lot, a good job this was done solo as others might otherwise be rather unhappy.
This series 6 offering does not have everything that the curved screen offering had but it costs a lot less.
The Samsung UE48H6200 is available from the first link below for £614.95 with free delivery.
http://www.amazon.co.uk/gp/product/B00JGOW6OY?ie=UTF8&tag=gadge0a-21&linkCode=as2&camp=1634
http://www.samsung.com/uk/consumer/tv-audio-video/televisions/flat-tvs/UE48H6200AKXXU