An LG Secret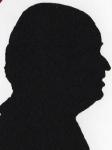 The boss of LG in the UK made a great joke of telling journalists prior to the announcement that the name of their new phone was Secret. He was of course correct it is called 'Secret'.
It is 10x4.5x1cm when closed, when the screen moves upwards to reveal the twelve key keypad this increases the first figure by 3.5cm. The phones weight is 110grams. It is matt black with a silver band and controls and the back is a fine checkerboard pattern of grey and black weaved to look like tweed. The viewable screen area is 5x3.7cm.
The left side has the dual headset and charger port. The right side has the volume rocker and three clearly labelled buttons. The top and base have nothing and the units camera is towards the top right side of the back. The rest is the battery cover, remove this to insert your micro SD card to supplement the units storage also your SIM card. Unlike most other phones there is no need to remove the battery to complete either operation. While the back fits neatly it is a little fiddly.
The screen is very readable even the small top line of icons are very clear, the clarity of any image in the screen (such as that you may choose for startup) is amazing and you really would not think it is other than a static photograph. When the screen blacks out (power saving) it is an almost perfect mirror.
The area below the screen has in effect six invisible buttons 'neon touch navigation' with a solid silvered one in the centre, this one takes you to the twelve menu areas. Games, Calling, Organiser, Multimedia, Messaging, My Stuff, Yahoo, Contacts, Tools, Browser, Connectivity and Settings. While some of these can be reached in other ways the whole unit can be controlled from this one button. It is nice that all the icons are shown on a single screen with no extra scrolling required to see the last few icons.
When I recently reviewed the LG Viewty I called it a camera/phone and while this has a camera of the same resolution I would describe this as a phone/camera. I took many good quality images with both and while it is 5MP you do of course have options in both still and moving images to change the quality of the settings. 5MP is much more than you need to get a good A4 image.
The options are 2592x1944 5MP, 2048x1536 3MP, 1600x1200 2MP, 1280x960 1MP and 640x480 VGA. There are seven specific scene modes apart from a very good Auto - default - mode. You can manually change brightness and there are plenty of effects.
Other things you can adjust are white balance, self timer, various shot modes (including a continuous option) four ISO settings up to 800 and three different quality modes.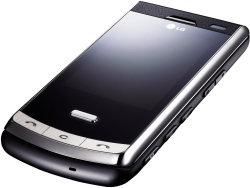 click to enlarge
For video there are three recording speeds. Four video sizes 640x480, 320x240, 176x144 and a 16:9 wide offering. I could go on, maybe it is a phone/camera after all.
This is a quality phone and one both men and women will want to own. It is the latest offering in the LG Black Label range.
As always with mobile phones you need to decide what you want it for and how much you will use it and in what way, Internet, text, calls etc before any calculation as to it's cost.
I give an example below of it costing nothing but you are tied to an 18 month contract. The second link it to LG's site where you can find lots of other details and statistics about the LG Secret the KF750.
http://shop.carphonewarehouse.com/pay-monthly/lg/kf750-secret-black/t-mobile/u20tx/
http://uk.lge.com/products/model/detail/mobilephones_lgsecret(kf750).jhtml