Samsung 40inch Connected TV UE40F6800SBXXU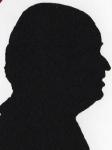 As with all such devices it is not just a TV but also an entertainment centre so you can send and receive emails, Skype, search the web as well as watch catch up TV all via Ethernet or Wi-Fi so the review period always needs to be longer.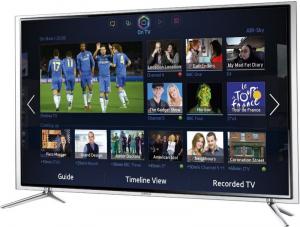 click image to enlarge
Let's start with the TV itself it is 95x54.5x5cm, the viewable screen is 89x50.5cm which gives the notional diagonal imperial screen size of 40inches. The stand protrudes beyond the base to 97cm at the front and 75cm at the rear of the pair of feet that support it. So whatever you stand it on will need to be at least 27cm deep and support a 10kilo item. You can of course get a kit to hang it on a wall.
This is a 3D TV and supports three different viewing styles and it comes with two pairs of glasses.
The unit supports inputs from both a standard aerial and also satellite.
The sound is better than a lot of recent TVs I have looked at it comes from two 10watt speakers. It supports Dolby and DTS.
On first start up the scan found 80TV, 24Radio and 21Data channels; this of course includes the current six HD channels available of Freeview.
Picture quality was excellent especially when viewing movies, nature programs and sport in HD.
When you first switch one you are in the Smart Hub and this has five screens; Social, Apps, TV, Films & TV Shows and Photos Videos and Music. Assuming you were in TV mode when you shut it off last then you start in that mode with the channel you last watched selected in a Window but other channels are previewed on the same screen just click enter on the remote to continue watching that channel in full screen.
This is a Class A Eco unit which you can increase of reduce the power saving options – including auto off – from the menu button on the remote.
The remote has 44 keys and is 17x4x2cm and is better balanced than some. I discovered that the previously viewed channel is switched back to far quicker – by around two seconds – than any other selection when it is selected via the 'Prev Chan' button on the remote.
The unit can be controlled by voice but if you activate this you may get some unexpected results if you tend to get animated while watching.
The back and right edge of the unit has all the external connections. Composite and Component In, Digital Optical Out, Ethernet, Wi-Fi, four HDMI ports, three USB, Headphone out, SCART out, Common Interface and Infra Red as well as inputs for aerial and satellite.
The standby power use is .1watt while it uses 61watts in use.
As stated you can use either Ethernet or Wi-Fi to connect it to the world and use all the other features. While you can use Skype you need to download it as in fact you need to do for a large number of the Apps. One of the more useful is BBC Sport as watching the numerous streams shown live at peak weekend times is far more enjoyable on a TV than a PC or Notebook.
If Santa has one left over than perhaps he could send it to me.
For more information on this and other similar units both larger and smaller follow the second link below.
The Samsung UE40F6800SBXXU 40 inch Connected Smart TV is available from the first link below for £729.98 with free delivery.
http://www.amazon.co.uk/gp/product/B00BP5F8CY?ie=UTF8&tag=gadge0a-21&linkCode=as2&camp=1634
http://www.samsung.com/uk/consumer/tv-audio-video/television/led-tv/UE40F6800SBXXU