Oregon Scientific Items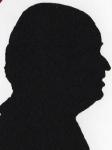 Review controls
If you can be ill or well we accept illness so why not wellness? Here two items from Oregon Scientific a Wake-up Clock and an Ultrasonic Aroma Diffuser both from their new Wellness range of products recently launched.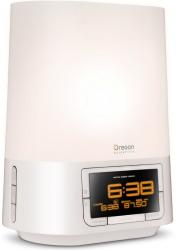 click image to enlarge
Sunrise Wake-up Clock WS902
Having reviewed two versions of a similar device from Philips I thought I knew what I needed to know to get this up and running, up to a point I did but the six pages of the manual that are in English and the Quick Start Guide are both helpful.
It is 25x18x10cm. The first 8.5cm is where all the controls are and the last 16.5cm is the shade for the 60watt screw in bulb made interestingly by Philips.
In theory anyway the light starts at a very low level twenty minutes before your chosen alarm time and increases very slowly in intensity. I found that nearly always this was enough to wake me up as light in the morning is now diminishing. However after this you can choose either a buzzer (very insistent) wildlife sounds or the radio can be used to rouse the deeper sleepers.
While I managed to get the buzzer or wildlife sounds to function I never found a way to make the radio work when I had used the sleep timer to lull me to sleep the night before, maybe its me or maybe my unit had a fault.
There is a 60cm wire aerial lead and this I found gave excellent FM reception on the radio. The hard wired mains lead is 2.7metres so should be enough for you to site the unit somewhere appropriate for you. The sleep option (8 minute delay) works if you pass your hand within a few centimetres of the 9x.3.5cm control section of the unit.
If the radio worked with the alarm function then it would be a good device for those interested both my reviews for the Philips Wake Up Lights are in the rarely awarded 5x5 award section. With the radio problem when associated with the alarm this is not quite that good but certainly worth considering as a gentle wake up tool, if you wake up relaxed as you should when roused gently then that should aid wellness and save grumpy breakfasts. I found the I-Wake-up Sunrise Clock available from Amazon on the link below for £89.95 including free delivery.
http://www.amazon.co.uk/gp/product/B002TG3816?ie=UTF8&tag=gadge0a-21&linkCode=as2&camp=1634
http://www.oregonscientific.co.uk/cat-Time-sub-Designer-Clocks-prod-I-Wake-up-Sunrise-Clock.html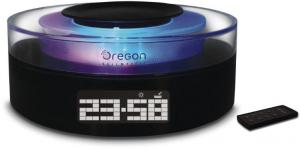 click image to enlarge
Ultrasonic Aroma Diffuser WS903
Being a mere male I do not get why a person can get off by smelling various oils but them Aroma therapy is I consider mainly a woman thing.
The device itself is circular at 18cm with its height 6.5cm. It has a 6x2cm window on the front that by default displays the time. This is kept – even when not connected to the mains (but not displayed) by a battery that fits in the base.
The 1.8metre mains lead end in a small brick adapter plug. As there are no controls on the unit all the choices reside in a small 7x3x.5cm remote control (so don't lose it).
To use the unit place a couple of drops of your favourite smelly in the unit and then fill the centre area with water, plug in and once you press the button on the remote steam is given off smelling of that oil. The main use I would presume would be on a timer 30-60-90-120 minutes and should you wish you can have various woodland sounds playing from the unit.
Some might like a massage while this is happening but that is handled by other wellness products yet to be tested.
Doing my searches found the Ultrosonic Aroma Diffuser WS903 at a best price of £85.53 from the link below.
http://www.amazon.co.uk/gp/product/B002TG381G?ie=UTF8&tag=gadge0a-21&linkCode=as2&camp=1634