Doro Phone TH80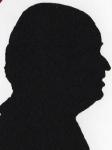 Review controls
Recently I heard about a Swedish Phone company, I went along to their presentation and was given several of their phones to try. This was the first offering a rather nice slim DECT phone called the TH80.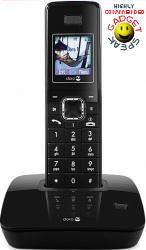 click image to enlarge
The phone is 15.5x4.5x1cm and weights only 120grams. It comes with a base station that you plug into the wall socket and this is 11x11x3cm both the phone and the base station are black. The phone has a silver back. The base station also charges the phone.
If the phone is away from the base station you can page the phone from it, great if you have a large garden and the person in the garden has it in their pocket. Also useful if you forget where you left the handset just follow the tone.
There are a total of 23 keys on the face of the phone. The bottom 12 being the numeric keys above this the mobile phone style answer and hang up with an address book in between. The line above has a speakerphone and a recall button with the four '+' keys well labelled in between and finally the top two keys are soft keys dependant on what is displayed on the screen.
The unit I was sent was designed for use in Scandinavia so it was a good job I did not need the manual. The wall socket lead was wrong but I used one from another of their phones that was designed for the UK. The UK version will probably be available by the time you read this.
Once you have set English as the language I doubt the manual is really needed. With it being very much like a mobile phone most actions will be clear. The menus are friendly and easy to follow. The 2.8x3cm TFT display was bright and easy to read. All the time the phone is in the base station there is a small white light shining up onto the phone so you should be able to find it even in a darkened room.
Just as I was completing the review I was sent an English manual in PDF format and found out a few extra nuggets the phone book can store up to two hundred entries and the phone will work up to 300 metres away (open country) or maybe as little as 50 metres through steel and concrete.
The manual also told me how to setup the unit to send and receive SMS, if you send an SMS to a phone that does not support SMS then it will arrive as a voice message.
This is far more than a simple phone while this unit does not have an answering machine as such certain of their other units do. This unit does have voice mail capabilities and you can define a special tone for when voice mail is received, again much like a mobile phone.
The menu gives a whole range of ring tones and volumes and is very like a mobile phone (again), you can even set up an alarm so if you have it by your bed it can wake you. By default it will not auto answer when you remove it from the base station but this is an option so should you want this feature it is another menu option.
This unit can be used with extra handsets and this is another use for the paging feature. Calls can be transferred between handsets and of course handsets can have calls between themselves, ideal for several people and one phone line.
To me this phone has all the advantages of a mobile without the bills to go with it. Of course you cannot use it well away from home but I walked over a hundred metres down my road (probably around 140 metres when you take into account on where the base station was) and I still had a perfectly good conversation. So you can easily pop to your neighbours when waiting for an important call by simply putting the phone in your pocket – just like a mobile – oh I may have said that a few times before.
Doing my Internet searches currently drew a blank for this model.
Update of price and availability when available.