Epson EH-TW9200 3LCD Projector

Published Jan 26, 2015 Author
bidmead
Review controls
For around £500 you can pick up a very decent entry-level projector built around Texas Instruments' Digital Light Processor (DLP), an ingenious electromechanical device that turns electrical signals into pictures. I've reviewed several such machines here over the past year or so, ranging up to the £3,000 mark. But if you're shopping around in that area it's definitely worth considering the very different approach pioneered and promoted by Epson. This uses three separate electrical signal to light converters operating simultaneously, one for each of the primary colours. At the entry level end of the market Epson's 3LCD technology requires compromises. But if you're prepared to shell out a couple of grand or so, Epson's near top-of-the-range EH-TW9200 3LCD projector should be a serious candidate.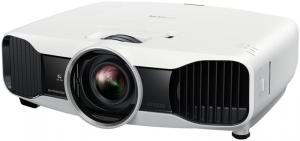 click image to enlarge
Weighing in at 8.4Kg and measuring 140 x 466 x 395 mm (height, width, depth) this is definitely a whale of a machine, particularly in comparison with the tiny Viewsonic PLED-W800 I reviewed here recently. It has a full complement of inputs: two HDMI sockets, component video, D-Sub PC, S-Video and composite. It's currently sitting on top of a Yamaha RX-V677 AV receiver but I would hesitate to perch it on any less well-built piece of equipment.
The front of the big, black, pebble-shaped machine is dominated by the large central lens, a design trope that confidently announces that it's looking out at the world through some very serious optics. Symmetrical finned air-vents on either side handle the cooling - in use a gust of hot air streams from the vent to the right of the lens and air is drawn in from the left.
Manual ribbed wheels behind the lens and accessible from the top of the unit handle the focus and zoom. Similar wheels to the right and left of the lens housing shift the lens to enable accurate vertical horizontal and vertical positioning of the projected picture. Unlike keystoning (electronically straightening out the projected picture into a regular rectangle to compensate for tilt) lens shift is an optical operation, and doesn't compromise the integrity of the image. Keystoning is also provided, but is best avoided by ensuring the projector remains completely horizontal. A pair of screw feet at the front of the base are provided to adjust this.
The remote control is also proportionately hefty, a solid stick of robust plastic powered by a pair of AA batteries. Its array of 46 buttons is a little overwhelming, but thankfully each is of a manageable size and one of them illuminates them all so in a darkened room you can still locate the function you need.
Press the On button in the top left hand corner of the remote and… nothing happens. You need to wait some 8 seconds or so while the lamp quietly warms up. Then the lens cover slides open and the picture appears, faint and greenish while the lamp continues to warm up. Around 30 seconds later the colours have stabilised. Set your zoom and focus and you're ready to rock.
By default the picture is bright and crisp, with well-saturated but unobtrusively realistic colours. Four main picture modes are provided: Dynamic, Living Room, Natural and Cinema, roughly corresponding to ambient light conditions of decreasing brightness, Cinema being for a pitch-black room.
I found myself switching between Dynamic for daytime TV viewing and Natural for watching movies at night, tweaking down the colour saturation a notch or two. If you're inclined to tinker you have full control over elements like brightness, contrast, saturation and sharpness, and there's even an onscreen slider in the set-up menu for adjusting skin tone. The Advanced section of this menu also includes an "Epson Super White" toggle, which when switched to On can help restore detail in over-exposed highlights.
Dyed-in-the-wool home cinema aficionados who want to go the full hog can have the projector professionally calibrated - there are enough bells and whistles in the set-up menu to satisfy any video engineer.
Like most projectors, the TW9200 offers a choice of two lamp modes, Eco and Normal. In Normal mode the fan speed increases noticeably, and can be obtrusive in quiet passages. Eco however is pleasantly hushed, even if you're sitting close to the projector, and produces quite enough brightness for ordinary use.
One other potential source of noise is the "auto-iris" feature that throttles the light source for dark passages. The TW9200 offers three auto-iris modes: Off, Normal and High Speed. Earlier LCD projectors used to rely on this heavily in order to avoid washed-out blacks, but the problem (apart from sometimes making scene transitions look soupy) is that the mechanical gate mechanism can be heard in action.
The auto-iris noise problem has been improved hugely since those early days, and happily so has the the native contrast of LCD. I think this somewhat out-dated feature may only have been left in so that Epson can claim a contrast spec (outstanding for an LCD projector) of 600,000:1. To my eye the native contrast is quite good enough without it, and I was able to leave auto-iris set to Off.
A key feature that distinguishes the EH-TW9200 from the EH-TW7200 I reviewed here in June of this year is "frame interpolation", otherwise known as "motion estimation/motion compensation" (ME/MC). Epson lists this in the Signal submenu and provides four modes: Off, Low, Medium and High. The process analyses adjacent frames and synthesises one or more additional frames between them, the intention being to smooth the appearance of fast moving images, and reduce judder of the kind that is often intrusive when a camera pans across a detailed scene.
Serious cinema fans argue about frame interpolation. There seems to be general agreement that it's useful for rapid action in, for example, sports programmes. But it's widely deprecated for movies, where it's accused of creating the so-called "soap opera effect", smoothing the motion to make it look more like bland television.
It's certainly true that full on frame interpolation can mean that three out of every four frames you see have been concocted locally by the display device, and are no part of the director's intention. But on the other hand, the 24 frames per second convention still maintained by mainstream movie studios was established as long ago as the mid-1920s, and harks back to the days when movie cameras were hand-cranked. It's worth noting, though, if we're going to wind the clock back that far, that Thomas Edison's late 19th C experiments with his Kinetograph convinced him that a "realistic" appearance of motion was only possible at around 48 frames per second.
Which perhaps goes some way to unravelling the paradox of the "soap opera effect". "Humankind cannot bear very much reality", wrote T. S. Eliot, and it has been suggested that 24 frames per second is actually ideal for story-telling, because it draws the viewer into something like a dream-state. A fast frame rate confronts us with the world; a slow frame rate immerses us in fable. Is this why so much of the audience for Peter Jackson's now notorious 48 frames per second showing of "The Hobbit: An Unexpected Journey" disappointingly found it far from "immersive".
Ah, that word reminds me I that I should mention the Epson projector's 3D capability. If you're into 3D, you'll really like the EH-TW9200. 3D glasses inevitably take the brightness of any picture down a stop or two, so the inherent brightness of the Epson projector and its crispness of detail in the darker sections really pay off when it comes to creating a convincing 3D scenario. And a light touch of frame interpolation can certainly help clear up the sometimes muddy sections of 3D fast action. The only snag - unavoidable, really - is that in order to punch up the light output the projector insists on switching the lamp to high power mode, which puts the fan into overdrive and ups the noise.
Epson's 3D glasses are synced to the projector by wireless. This is generally considered superior to the much simpler method called DLP-Link employed by entry level DLP projectors, which rely on an interframe flash of white light from the screen to keep the glasses in step with the succession of left and right 3D frames.
The DLP-link system is inherently cheap and you can buy the glasses for under £10 if you shop around. The catch is that if you look away from the screen for more than a moment or two DLP-Link glasses will lose sync, although I've never found this much of a problem. Epson's wireless glasses are inherently more expensive, (so it's just as well they bundle two pairs of them with the projector) but they're beautifully made, light and comfortable.
And congratulations to Epson for the standard micro-USB socket used for charging, which means most ordinary Android or Windows phone charging cables will fit. A quick 3-minute charge is enough to turn the red charging LED on top of the glasses to green, which means there should be enough juice to see you through a 2-hour movie. A full charge will give you up to 40 hours of viewing.
You'll have got the impression that Epson's EH-TW9200 isn't the sort of entertainment device you dig out at the weekend for a bit of relaxation. But please don't go away with the idea that you need to build a fully-fledged home cinema around it. Although it's certainly good enough to deserve the full treatment - and indeed I came across it recently at the centre of a fully equipped £100,000+ Dolby Atmos demonstration suite - this is a projector that can fit into a regular sitting room with the minimum of fuss.
Its "Cinema" mode in a darkened room will give you superb colour balance and shadow detail, and in daylight you can up the luminence for projecting a TV quality picture in full daylight. While it doesn't entirely compete with the best LED TVs under daylight conditions (inevitably the blacks will be greyed out by the ambient light) the daytime viewing experience with, say, an 80 inch screen, is very impressive. And less than half the price of an equivalent-sized HD TV.
I'm currently using the EH-TW9200 to project a massive 124" diagonal screen from a distance of about 12ft. When the wife complains this is too big for our sitting room (as she invariably does) Epson's powerful optical zoom can bring this down to a more TV-sized 58", or anything in between, without losing focus. And if the screen isn't landing up in the right place for you, manual controls on the projector can shift it up or down by approximately half the screen height, or from side to side by as much as the whole screen width. I haven't come across such versatile lens shifting anywhere else outside Epson's products.
So, big and heavy though it is, this is a projector that should be able to make itself at home anywhere.