BenQ W1500 Projector

Published Jul 28, 2014 Author
bidmead
Review controls
If you're looking for a projector (and why wouldn't you be - good ones are abundant and cheap these days, and deliver much more screen real estate for your money than TV sets), you don't necessarily have to seek out the top the range get yourself and your family into the home cinema game. True, what I'd call fully-fledged "home cinema" is costly to set up. But if you have a blank wall and an existing hi-fi system there are bargains out there just waiting round the whole thing off for you. BenQ's flagship W1500 may be a candidate.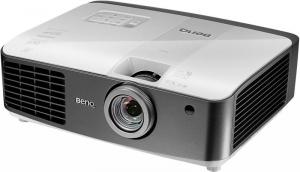 click image to enlarge
Sporting a brown, cream and silver styling that wouldn't have been out of place in the 1950s, the BenQ W1500 is a 2200 lumens mid-range single-chip 3D-capable DLP projector that weighs in at 4.5kg and measures 340*120*285mm (width/height/depth).
Strict projector aficionados like to make a distinction between true "home cinema" machines, permanently installed and tuned to deliver the best possible visual experience in suitably darkened surroundings, and "home entertainment" devices, all-rounders that are essentially TV set replacements, bright enough to be useable in the living room with the lights on, and small enough to be packed away when not in use. Home cinema projectors will leave the audio to a dedicated surround-sound system; home entertainment projectors often sport self-contained sound.
The W1500 straddles these two categories, although it's mostly aimed at the latter market. Its size and weight suggest this is probably something you'd want to set up permanently, and its extensive video adjustment features vie with some of the best home cinema candidates. But the bright display suffers from some light spill that lightproof-room home cinema fans would accuse of mushing up detail in the darker regions of the picture, and there are some significant shortcomings with the lens.
But don't let these compromises put you off. In some ways this is the most interesting projector I've seen for several years.
Unlike lower-end projectors, changing the zoom lens (1.6x) retains focus, but on the test model at least the lens adjustment seemed unsmooth and wobbly - somewhat out of keeping with the general aspirations of this otherwise richly-endowed machine. But in the home cinema environment zoom tends to be a set and forget feature. I set it to give me an approximately 120 inch screen from a distance of about 10 feet and left it at that.
Lens shift is provided, but it's strictly limited. A small knob under a hatch at the base of the lens housing provides vertical adjustment of less than a quarter of the screen height, and there is no provision for horizontal shift. In practice I can imagine only a few situations where this will be useful.
The primary connections are a pair of HDMI sockets. There's also a three-way RCA RGB component input, and a 15-pin D-Sub connector for PC input. S-Video and composite are also on hand for the attachment of older sources.
There's one other method of signal input, designed to help you keep your living room free of untidy wires. The W1500 has a built in wireless receiver capable of handling full HD. To transmit to this receiver BenQ provides a small wireless HDMI dongle that is physically very similar to the Roku Streaming Stick and the Chromecast device. It has a male HDMI connector at one end and a microUSB socket for power at the side.
There are some stringent limitations here, unfortunately. The wireless connection is only certified for a very limited number of source devices (luckily my PS3 is one of them). And as it uses 5GHz it mustn't be near any other devices operating in this wireless spectrum.


click image to enlarge
In testing this WHDI connection I initially ran into serious problems with the screen pixillating and stuttering, but this was largely solved when I moved my 5GHz wireless access point a foot or so away from the projector. The WHDI dongle also worked reasonably well with my old D-Link Boxee Box.
The projector has a control panel built into the top surface, but you'll normally be driving it from the (commendably backlit) remote control. This pops up a dialogue box on the screen in the usual way, and here detailed colour adjustment is available in the advanced section of the menu. As well as the usual gamma control, and features like noise reduction and colour temperature, each of the six separate colours in the colour wheel can be balanced for hue, gain and saturation. Black level can also be adjusted to maximise detail in the dark regions of the picture, within the limitations discussed above.
You can also adjust the tint of the picture between greenish and reddish, either with respect to the whole frame, or by adjusting the skin tones. Separately there is also provision for setting the colour temperature either as Lamp Native (for the brightest possible picture), or Warm, Normal or Cool. Bottom line: the video calibration features aspire to the "home cinema" class.
But unlike typical home cinema machines, the W1500 contains its own audio amplification, which optionally plays out either to the pair of 10 watt built-in stereo speakers, or the 3.5 mm audio socket (the manual wrongly describes this socket as mono). The sound level can be adjusted from the remote control. Digitally enhanced surround sound (SRS) is also available, although for home cinema you'll probably want to bypass the projector's internal audio altogether.
Other features that set this projector apart from the pack include Picture in Picture (PiP) and frame interpolation - the ability to smooth the jerkiness of motion seen in some movies by synthesising additional frames. It's a controversial subject among the more picky home cinema buffs, but worth having as an option.
And then there's 3D… I still have mixed feelings about this, but I'm finding it more acceptable in the home (where you can take a break whenever you like) than in the cinema. Attached to an HDMI 1.4 source, the projector can detect 3D content automatically. Connected to my PS3, the 3D detection and auto-setup took about 45 seconds - which may seem slow, but is considerably better than having to fiddle about and set up the 3D parameters manually, which can take considerably longer.
The DLP-Link glasses supplied by BenQ produced a convincing 3D image when I ran my Blu-ray Avatar from the PS3 but there was an unfortunate side effect in that every cut seemed to create a rapid wipe across the screen. Inverting the sync didn't cure this. As BenQ uses the standard DLP-link technology to sync its glasses I was able to substitute a pair of generic DLP-link glasses (which in a lucky bid I'd picked on eBay for 99p inc p&p!). This completely cured the problem.
Like other reviewers of this BenQ projector, I was struck by the reddening of the blacks that occurs when you shift into 3-D. Happily both the BenQ and the no name glasses I was using seem to correct this, so normal 3-D viewing isn't affected.
Despite the slight sloppiness of the lens housing, this is definitely a projector I could live with. The RRP of around £1400 is a very decent price, but I've seen it on the Web for less than a grand, which makes it a considerable bargain.