The BenQ W750 Projector

Published 30 Mar 2015 Author
bidmead
Secondhand bargains apart, there are a couple of kinds of really low cost projectors you can buy: no-name brands of dubious origin, and low resolution business projectors intended mostly to display charts and presentations. For different reasons, none of these will be much fun for home entertainment viewing. Yes, you'll get a big screen, and it might even be watchable - for a while. If all you're used to is a 36 inch TV you might even be temporarily impressed. But the odds are that the loss of nuance in the picture details, or problems with focus, or the jerkiness of the motion, or the screaming inaccuracy of the colour will send you back to your TV before the month is out.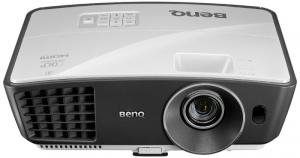 click image to enlarge
However something very interesting has been happening in the home entertainment market over the past few years. Low end projectors capable of showing very decent big screen video have been turning up from brand-name manufacturers at the sort of price you'd expect to pay for a modestly specced 42 inch TV. We're talking of decent, liveable-with projectors that cost only a couple of hundred quid or so more than those problematic cheapos.
That's the good news. And here's even better news. Among that batch of decent, brand-name, entry level offerings I've come across what I believe to be the bargain of the year. During the course of this review I had to keep going back to Amazon UK to check the price, because I kept thinking I must have got it wrong. And watching the picture I'm getting on the screen here I still don't quite believe it.
The brand name is a solid player in the projector market - BenQ. The model I'm talking about is the W750. And that Amazon price gives you a fistful of change from 400 quid.
So what's the catch? The bad news, if you're a pixel counter, is that this is an "HD Ready" device with a native resolution of 720p. But, frankly, like the price this is a factor that I had to check more than once in the course of testing it for this review. The picture detail, given decent HD input, is superb, even on a 120 inch screen spread all over my living room wall.
The image is bright, too. Manufacturers' ANSI lumen figures aren't always to be trusted in my experience, and in this case we're promised 2500 of them. My test is to try watching daytime TV in the daylight on as large a screen as the projector will offer me. If that works, the machine's bright enough for me. The BenQ W750 passes this test.
I say "daytime TV" because the luminosity dynamics of this kind of video are much flatter than you'd expect from a movie, which can plunge you into murky darkness while still expecting you to follow the story. Obviously however good and expensive your projector, daylight is going to wash out the black level detail, so projected movies always need to be watched in a darkened room. This is my second test: when I draw the curtains and watch, say, "Night Moves" (the 1975 version, of course), can I follow Gene Hackman lurking among the shadows, revolver in hand? Often a high lumen projector may fail this test, with low-light detail vanishing into less than half a dozen shades of grey. But the W750 nicely passes this test too.
As well as the ubiquitous HDMI, there are separate input sockets for component video and the older S-Video and composite video standards. Unusually for an entry-level projector, the W750 allows you to switch between two different HDMI inputs - particularly handy if you don't have the projector hooked up to an AV receiver.
Another very welcome surprise in this price bracket is the 3D function. It's not uncommon these days for entry level projectors to include a 3D tick box in the feature list, but the BenQ W750 does this really well, offering a bright, smooth and convincing display using DLPLink triple flash synchronisation between the projector and the glasses. This technology requires no addition wireless connection, relying on invisible signals relayed through the screen itself to keep the glasses in sync.
No glasses are bundled in the price, but DLPLink is widely used by multiple manufacturers, and you should be able to pick up a decent compatible pair on eBay for under a tenner. Or as I once did in a lucky bid, for 99p including P&P!
Yes, there are downsides to the BenQ W750. More costly projectors use a lens array that gangs the lens adjustment so that changing the zoom doesn't alter the focus. With this projector you have to adjust both parameters separately.
The small white remote control isn't backlit, and some of its buttons are tiny, but I've seen a lot worse on machines costing three times the price. The fan isn't the quietest I've come across, and there's a fair amount of light spill through the front ventilation grilles, although this is directed well off to the side of the screen.
The built-in sound is only mono: many projectors in this "home entertainment" category offer stereo. But the aficionado class of "home theatre" projectors rarely embody speakers, expecting the audio to be played through a separate hi-fi or surround sound system. Frankly I'd never recommend using a projector's own speaker for anything except emergencies, and the BenQ's mono audio is quite adequate for that.
Bottom line: the BenQ W750 is a huge amount of home entertainment for the money, and is an entry-level projector I can thoroughly recommend.