Optoma ML1500 Portable Projector

Published 10 Aug 2014 Author
bidmead
The central problem with projectors has always been the lamp. Power hungry and hot, a typical projector lamp will need a busy fan to keep it cool, further adding to the power consumption, and bringing distracting noise to the party. And lamps can be costly to replace – typically between £150 and £250. Low powered and cool running, LED illumination promises to put a stop to all that. And here's the Optoma ML1500 to show how it's done.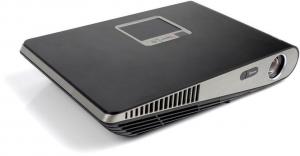 click image to enlarge
Weighing in at just 1.4Kg, the Optoma ML1500 is a small, light, portable and - in its class - powerful projector that fits neatly into a neoprene case no bigger than a handbag. The black and silver styling employs an unusual asymmetrical design that in the frontal view tapers sideways away from the lens The small size (270 x 170 x 48mm, width x depth x height) is deceptive: plug it in and switch it on and you have a bright 100" screen 10ft away that wouldn't disgrace a machine twice its size, weight and price.
If this ratio doesn't work for you, tough, because the ML1500 has no zoom. There's no lens shift either, the idea being that with a projector this size it's easy enough to reposition the whole thing to achieve the screen dimensions and placing you're looking for. Two of the three small feet underneath machine can be screwed in and out to adjust the elevation and pitch, while keystoning (optionally auto or manual) takes care of the screen geometry.
A tiny, flat remote control is provided, but you can also drive the machine from controls on the top surface of the projector. Unusually – and very usefully – this comprises a touchpad, which makes for very easy operation in the dark.
There's a decent selection of inputs. As well as the standard HDMI 1.4 compliant socket, you can in plug a VGA computer, or any composite video source. Perhaps the best thing about this machine from the portability point of view is the ability to plug in a USB stick or SD card directly. Several other portable projectors I've seen allow you to show a PowerPoint presentation or display a few JPEG photos from a USB stick. The ML1500 can do all this, but it will also run movies directly from the memory stick or card. A very wide range of formats are covered, including AVI, MPEG, MOV, MKV and FLV.
Screen resolution is WXGA (1280 x 800 pixels) which will accommodate a conventional "HDReady" 720p frame. A pair of built in 3W speakers provide a workable stereo sound system when there's no opportunity to plug into something better, and this can optionally be beefed up by switching in SRS surround sound enhancement.
A WiFi dongle, available as a cost option (RRP £26.99), can put the ML1500 onto your wireless LAN, allowing you to display presentations from a Windows PC or a Mac. And if you have a quad buffered graphics card in your computer you should even able to show 3D content in conjunction with DLP-Link glasses. Time limitations precluded my testing either of these options.
Lightness and brightness are the key features of this remarkable portable projector, which comes with a 2-year manufacturer's guarantee. With its instant switch on and shut down (LED illumination requires no warm up or cooling down time before you can pack it away) the ML1500 is ideal for the travelling business person, but also performs respectably as a home entertainment device. True, for the price of around £600 you could buy higher resolution and a brighter lamp, but don't forget to price lamp replacement into the equation. Conventional projector lamps may last only two to four hundred hours. With 20,000 hours running time, the ML1500's LED illumination system could be saving you several hundred pounds over its lifetime.