Optoma LV130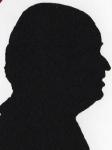 I am a projector virgin or rather I was until this solid battery offering arrived a few weeks ago. It came with no instructions, it had a power adapter and an HDMI lead so I plugged it into my PC and pressed the power button and after a few seconds I was looking at my Windows desktop. To be fair I had seen lots of other projectors but only as a recipient of another person's presentation.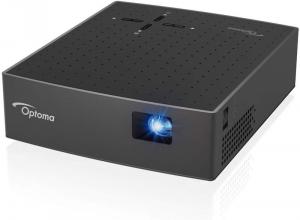 click image to enlarge
This Optoma LV130 LED Projector measures 12.5x10.5x3.5cm and weighs 393grams. It can be placed anywhere standing on its four tiny rubber feet or mounted on a tripod using the tripod screw in the centre of the base.
The rear has a line of connections, 3.5mm socket for headphones, HDMI socket (this can also be an MHL socket) USB which can charge at 1A and DC connection. Finally an on/off button with red and green LED's above it. The right side has a heat vent and the left side the pair with a focus wheel just in front of it. Finally the top has four bar buttons for left, right, forward and back; the last two have secondary functions.
Apart from the HDMI lead there is a power adapter lead and a zip up case to allow safe transportation.
As this is battery powered – in my tests around four hours between charges – I can see this working with notebooks, tablets and even mobile phones for presentations where the kit needs manual transportation and possibly mains power is not readily available.
Entering LV130 on the Optoma site gives a choice of Basic User Manual which is four pages and only one of illustrations. User Manual and language of choice produces a little more by the time you get to page nine of twenty three and useful information stops at page seventeen.
This projector can show an image in a darkened room at a good distance in normal lighting a couple of metres away or closer.
The exact distances are given under additional information but no mention of light (or lack of) so my tests are all I mentioned using my standard 1920x1080 Windows screen being readable on a plain wall.
The USB port can be used to screen Google Chromecast or Amazon Fire content and the built in speaker gives reasonable output in a confined space.
As with any projector one of the most expensive parts is the bulb (LEDs in this case) and that has an expected life of 30,000 hours with 100,000:1 contrast ratio.
The stated battery time is up to 4.5 hours so my times of just below and up to just beyond four hours seem to confirm that.
I am less sure of the ability to charge another device apart from maybe the mobile phone connected via HDMI MHL as this of course reduces the time the projector can be used without external power being connected.
Providing you are not expecting extra bright displays from one side of the room to the other the image is quite good and the sound acceptable but for the price and for mobile use this is good.
At the time of publication the Optoma LV130 is available from Amazon for £259.