Vista Digital Note-taking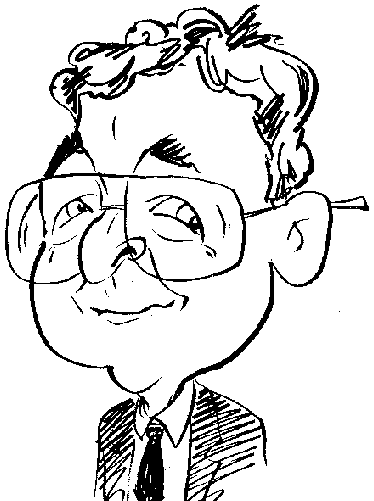 Transferring notes and illustrations to your computer is the task undertaken by this next product supplied by Selwyn Electronics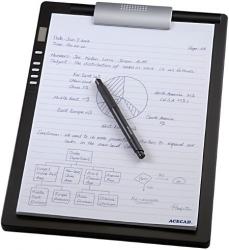 click image to enlarge
Earlier this year I took a look at a digital device that allowed you to make notes and draw diagram using a pen and pad. The data could then be downloaded onto your computer with the minimum of effort. This product was the DigiMemo A402 developed by AceCad and supplied by Selwyn Electronics. The kit was made up of a digital pad (a bit like a posh clip board), a supply of paper plus a special digital pen and software made up of DigiMemo Manager and MyScript handwriting recognition utility. At that time the product would work with Windows 2000 and Windows XP systems. Now support has been added for Windows Vista and, as a result I have returned to the product for a second look.
While relying on my memory, dodgy at the best of times, I was unable to detect any perceivable difference in the hardware element of the product. The DigiMemo pad still retains the same basic measurements of 245 x 336mm (W x L) as was previously the case. The same familiar arrangement of a large paper clip at the top with a mini-display windows and a column of buttons running down the left side are all present, as is the SD card slot located on the right side. As before the DigiMemo pad is powered by four AAA batteries located in a rear mounted compartment.
The special digital pen, which is required for the creation of notes and diagrams, is powered by a 1.55v button cell battery. Some care does need to be taken when inserting this battery if my experiences are anything to go by. It is quite easy to insert this battery the wrong way round with the result that no data will be transmitted to the DigiMemo pad for storage. Also you could find that this button battery could pop out of its rather tight fitting compartment before you have a chance to fully secure it. Batteries of this size are very difficult to locate when they have disappeared over your shoulder – but I was eventually able to locate it. The necessary batteries, along with two replacement ink cartridges and a spare plastic pen tip, are included in the package.
(At this point I need to inform the DigiMemo device that a new page is required. This task involves pressing the appropriate control button).
In case you are wondering about the relevance of the previous two sentences, I should point out that I am following the same approach that I used with my original review of this product when I wrote the initial draft using the product. I could see no reason not to follow the same path this time and so took up residence in my favourite armchair with the DigiMemo device resting on my knee. The DigiMemo pad does need to be told whenever a new page is started otherwise you could find your content being superimposed over previous notes.
As mentioned earlier, the DigiMemo A402 device now includes support for Windows Vista. The main software of DigiMemo Manager and the 30-day trial copy of MyScript now work with Windows Vista.
Transferring your work from the DigiMemo device is straightforward. You simply need to connect the device using the supplied USB lead and each page of note taking will be available as an individual file stored within the DigiMemo's 32MB of memory.. You can bring the content into DigiMemo Manager and carried out any editing before saving the result in a variety of formats that include bmp, jpeg, gif or using the proprietary .did file.
Unfortunately, despite ensuring that I left a margin of at least 1.5-inches on each side, there was a problem with missing letters and, in some cases, whole words missing from the left side of documents. Other areas of documents were unaffected by this malaise although my work did suffer from some alignment problems even though I was writing on the supplied lined paper. I had no problems when using the MyScript utility which was able to convert by handwriting into editable text and transfer the content straight into Microsoft Word or Notepad. When using MyScript you do need to inform the software whether to expect capital letters, simple printing or natural handwriting for it to fulfil its function. I was impressed with the accuracy of MyScript but felt disappointing with the left side results achieved by the DigiMemo device. Tests were carried out using both Windows XP SP2 and Windows Vista.
The system requirements for the DigiMemo A402 are a 500MHz processor with 128MB RAM and 32MB of hard disk space running Windows 2000 and later. Selwyn Electronics is advertising the DigiMemo A402 at £113.50, including VAT nad UK mainland shipping. From Amazon it is available for £107.89 including shipping on the link below. To upgrade the trial version of MyScript costs an additional £36.
http://www.amazon.co.uk/gp/product/B000M49HQW?ie=UTF8&tag=gadge0a-21&linkCode=as2