Pentax Optio VS20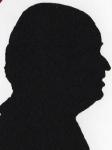 Review controls
This is another small digital camera from a name more associated with lenses rather than cameras. But they do make rather good cameras as well. This offering has a feature that I have never seen before on any camera I have reviewed.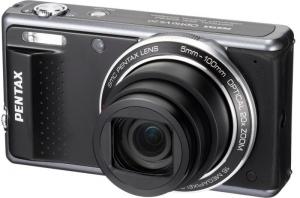 click image to enlarge
The Pentax Optio VS20 compact digital camera measures 11x6x3.5cm the last figure increases by between 3 and 5.5cm dependant on the amount of zoom. It weights 234grams.
The left side has a tripod screw fitment as indeed does the base which also has a door covering the solid battery and any SD card you might use. The right side has two strap connection points as well as a rubber bung to cover the AV connection socket. The feature I have never seen before is a second shutter release and zoom control especially for when you are shooting vertically. It seemed a novelty the first time I tried it but it really helps especially if you mount the camera on a tripod using the tripod screw on the left side of the unit to capture shots.
The face has the 20x optical zoom (5mm-100mm) and the small bar flash mounted above and to its right which is never nearer than 6cm from the lens. The top looks bare as all it has is the small silvered on/off button and the landscape shutter release as well as the zoom telephoto control. This leaves the back of the unit.
This has a 6x4.5cm matt finish TFT and to its right a column of four well marked buttons with the ubiquitous five position joystick in the centre.
There are grip points top and bottom of the lens, to the right of the controls on the back and a raised area to the right of the flash. All of which give you different ways to hold the unit to suit both portrait and landscape capture.
There are six still capture image sizes 16MP, 12MP 1:1, 12MP 16:9, 7MP, 2MP 16:9 and finally 640x480 VGA. As far as video capture goes there are six options, 1280 @ 30FPS, 1280 @ 15FPS, 640 @ 30 FPS, 640 @ 15FPS, 320 @ 30 FPS and 320 @ 15 FPS. There are five possible filter effects available, Sepia, B&W, Fish-Eye, Miniature and Sketch.
You of course have what are now deemed standard features in most small digital camera of shake reduction and face detection. Low Light is also a buzz word and here it works quite well with flash turned off you still get a reasonable image hand held, if you mount on a tripod or place on a solid surface they are really rather good.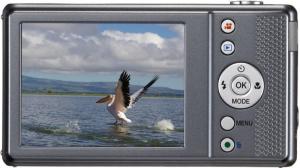 click image to enlarge
The flash works well when required and the images are better than the rather overexposed view gained by the default settings for the TFT. My first reaction was alarm but when I was able to study the results on my PC the alarm disappeared. I suppose it is better for the TFT to show over exposed rather than underexposed results.
The Quick Guide has its first twelve pages in English and should get even the novice user up and running; a full manual is available on the supplied CD as well as some software that is suitable if you do not have any favourite software already.
Certainly the dual tripod screws and shutter releases are unusual; they will perhaps make quick change between landscape and portrait a little less easy as you need to adjust your camera hold more than you would when just rotating your hands. But if you are taking a whole range in one mode or other then it could be an advantage.
As always if you try to use all the zoom available you will be disappointed with the results if you do not use a tripod as however steady you think your grip is with the amount of lens extension there will be some movement.
Doing my searches found the Pentax Optio VS20 at a best price of £165 with free delivery from the first link below for black. Should you want white it is available but at just over £6 more.
http://www.amazon.co.uk/gp/product/B007197RS6?ie=UTF8&tag=gadge0a-21&linkCode=as2&camp=1634
http://www.pentax.co.uk/en/group/5/product/14117/body/overview/digital-compact.html