ViewSonic's PJD7820HD Projector

Published Mar 4, 2014 Author
bidmead
Review controls
Are big screen TVs too big your budget? For Chris Bidmead, they're too small for his living room. He likes a blank wall displaying a 100 inch projector screen. For full immersive HD movie watching (in 3D, if you're that way inclined) the ViewSonic's PJD7820HD delivers all this and more - for around £600.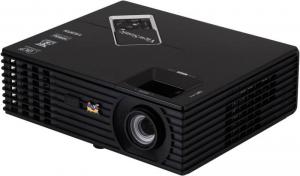 click image to enlarge
My previous review, of Epson's entry-level EH-TW490 projector, discussed the difference Epson's keen to point out between Colour Light Output (CLO) and the brightness in lumens as normally measured using plain white light. Epson's claim is that while the plain white light lumen count looks good on paper, only the CLO figure represents what the viewer will really experience watching a movie.
A white pixel created by a 3LCD projector of the kind Epson makes is actually the total light output at that point through the machine's red, green and blue LCDs with their throttles fully open. The full white from a traditional DLP projector, on the other hand, is the light shining through the clear segment of the spinning colour wheel. This need have no relation at all to the actual brightness of movies you watch with the projector, where the colours will be defined by the other segments of the spinning wheel.
(Current DLP projectors like ViewSonic's PJD7820HD greatly improve the colour gamut by splitting the traditional white segment of the wheel into three additional cyan, magenta, and yellow segments - a system branded as BrilliantColor. But Epson's general point remains valid.)
With this in mind I applied a light meter to full screen red, green, blue and white colour images projected from ViewSonic's PJD7820HD, an entry level 1080p DLP projector that sells for around the same price as the 720p Epson.
Both projectors claim the same brightness figure of 3000 lumens, but informal testing showed Epson to be on the money: the CLO of this Viewsonic DLP projector falls well below its white light output figure. Actually this is an easy bet for anyone who understands how the technology works. This would be why DLP manufacturers avoid quoting CLO (and why Epson is so actively promoting the new benchmark). But...
The theoretically wider colour range of a high CLO machine is certainly desirable. However, there are other factors that go into the total user experience, which after all is the, er, focus of all this. For me the black level and the level of low-light detail in the picture are a key part of that experience. Irrespective of the number of photons packed into a patch of colour on the screen, the human eye assesses that colour on the basis of its context. If the dark sections surrounding it tend to a murky grey, as I found them to do with the EH-TW490, subjectively the high CLO is diminished.
And when 3LCD manufacturers attempt to compensate for the poor black level by choking down the light output of the whole picture with a dynamic shutter - as the EH-TW490 optionally does - the high CLO suffers again.
Don't get me wrong - higher price 3LCD projectors can deliver superb blacks and low light detail. But we're comparing entry level machines here. Around the £600 price mark, in my opinion this Viewsonic walks away with the prize.
And we haven't even mentioned the Viewsonic's 3D capability - perhaps because I'm no great fan of the gimmick. But if you're into this for games or movies, excellent home 3D is ready and waiting in the PJD7820HD.
All you need add is a pair of 3D glasses. You're not limited to Viewsonic's own model - the machine uses a standard called DLP-Link which relies on an inter-frame flash from the projector screen to keep the glasses in sync without any additional RF or IR channel. DLP-Link glasses can cost as much as £60 a pair - the official price of Viewsonic's own PGD-350 model. But there's a wide range and if you shop around on the Web you can pick up DLP-Link glasses (as I did from eBay) for less than £7 including delivery!
The projector will switch automatically into the appropriate 3D mode (frame sequential, top-bottom or size by side) whenever it receives 3D input, but only if the input device implements the new HDMI 1.4 standard. Older devices, like my D-Link Boxee Box using HDMI 1.3 oblige you to fiddle about in the projector's menu system to switch into 3D.
As well as HDMI, the Viewsonic will also take input via component (through a choice of 2 VGA sockets), S-Video and (if you really must) composite. The machine naturally also sports the obligatory pretty terrible but happily mutable built-in mono loudspeaker.
If you think a 100", optionally 3D, crisp, bright picture for around the price of a decent 42" TV is amazing, you're right. I was amazed. Is there a downside? Maybe.
There's one snag with low-end DLP projectors that you may or may not find a problem. It's called the "rainbow effect". This is the transitory appearance of multi-coloured stripes on the picture, particularly in high contrast dark scenes.
This comes about because single-chip DLP projectors are in essence monochrome devices - the colour is obtained by electronically analyzing each frame into its primary colours, red, green, and blue (and more, with Brilliantcolour) and flashing each color up on the screen so fast that the human eye and brain blend them back to the correct hue. But if your eye happens to be travelling across the screen at the right speed these primaries may be glimpsed momentarily as a rainbow.
Higher end single DLP projectors spin the wheel fast enough to avoid this effect, or use other techniques like very rapidly flashing banks of LEDs. I found the effect was occasionally visible with the PJD7820HD, but not nearly enough to spoil my enjoyment. Your mileage may vary - some may find the rainbow effect annoying, others may remain completely oblivious to it.
The Viewsonic displays one other minor downside that often affects projectors at this price point. A bright lamp in a small casing that needs an airflow to keep cool can easily leak light out into a darkened room. I found that the PJD7820HD was throwing a considerable blob of light off to the right of the screen. Surprisingly this wasn't leakage through an air grill, but a stray beam squinting out through the side of the lens. During scenes of average brightness the effect was unnoticeable, but did become distracting in darker scenes.
But in my opinion, at this price these minor cons are well outweighed by the pros. I found the picture bright enough for television watching in daylight, but also able to deliver crisp, subtly nuanced images for evening movie viewing.
Add to this a lamp that promises 8000 hours in eco-mode and Viewsonic's exemplary 3-year guarantee and you have, I think, a category winner.