ViewSonic PLED-W800 Projector

Published Dec 9, 2014 Author
bidmead
Review controls
Almost exactly 3 years ago one of the most exciting pieces of kit I had seen for some time crossed my desk. It was the ViewSonic PLED–W500, a tiny but surprisingly bright projector that used cool-running LEDs for illumination instead of a hot lamp. Designed primarily for business presentations, its XVGA resolution and extended color gamut made it perfectly suitable for movies. Unfortunately, it soon disappeared from the market. But the good news is that it's back again, reborn as the PLED-W800. And it's better and brighter than ever.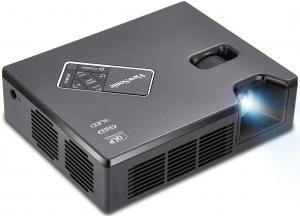 click image to enlarge
The Achilles heel of any projector is the lamp. To burn bright it needs to burn hot, using a lot of juice and requiring a cooling fan. The fan uses yet more juice, as well as tending to add bulk to the assembly, and of course noise.
The other catch is that most of the projectors on the home market use a single DLP chip - the electronic device that turns electrical signals into pictures. Commercial grade cinema projectors have three of these chips, one for each of the primary colours, but this multiplies the cost at least ten times.
Single DLP projectors use an ingenious kluge, flashing the primary colours in rapid rotation by streaming white light through a rotating wheel fitted with colour filters. The human eye and brain blend these individual colours together to recreate the full image. Well, most human eyes, most of the time. But occasionally (or for a few people, often) the eye/brain fails to be fooled, and the flash of primary colours becomes evident, particularly around high contrast edges. This annoyance is generally described as "the rainbow effect".
Substituting LED illumination for a hot lamp solves both these problems at a stroke. LEDs can be super-efficient at converting juice into light (often measured in units called "lumens"). A typical 100 watt incandescent light bulb emits around 15 lumens for every watt of electricity it consumes. The latest LEDs are claiming 300 lumens per watt.
And LEDs get rid of the colour wheel, instead using three banks of LEDs that flash red, green and blue in turn. Because they can flash up to 40 times faster than colour wheels, the "rainbow effect" becomes much less noticable, effectively disappearing altogether for most people.
The final huge advantage of LEDs, making it my guess for the future of projectors, at least in the home, is the fact that an LED array can be expected to give 20,000 or more hours of usable illumination. Hot lamps typically need to be changed every 400 hours or sooner.
The ViewSonic PLED-W800 embraces all these virtues in a form-factor not much bigger than a best-selling airport paperback. Its native WXGA resolution fills the screen with 800 lines of 1280 pixels per line, compatible with the 720x1280 HD Ready specification. It can also downscale full 1080p HD.
Like its PLED-W500 predecessor, the new version is primarily aimed at business presentation. Hot lamp business projectors often claim a brightness in the region of 3,000 lumens, guaranteeing you can offer a Powerpoint presentation without having to draw the blinds. Viewsonic's paltry 800 lumens sounds feeble beside that, but the device has a surprise up its sleeve. In practice the screen turns out to be much brighter than the specs suggest.
There's some solid science behind this. Manufacturers of hot lamp single DLP machines like to quote the white light figure. Colour wheels often include a translucent "white" segment that offers no obstruction to the light source, and this is where that optimistic lumen count comes from. In practice, of course, most of the picture will be made up of colour-filtered light with a much lower brightness rating.
With no spinning colour wheel intervening, LED 3-colour banks guarantee that every photon they transmit ends up on the screen (ok, you're right, one or two get lost passing through the lens). Better still, at this point a pair of 19th C German professors called Helmholtz and Kohlrauch step into the equation. The "Helmholtz-Kohlrausch Effect" notes that saturated colours appear much brighter to the human eye than mechanical measurements would predict - for example, white lights outlining a runway need to output twice the lumens of red lights to appear as bright to a pilot coming in for a landing.
This effect is particularly noticeable with LED illumination, which goes some way to explaining why the PLED-W800's mere 800 lumens is quite bright enough for a decent business presention on a, say, 50" screen in full daylight. Oh, and if you are using the projector in this context, it's worth knowing that won't have to drag your laptop along to the meeting. The MHL (multimedia high-speed link) enabled HDMI connector allows you to drive the presentation from your phone.
Forgotten your phone? The PLED-W800 can run the whole show direct from a memory stick or SD card, including photos, documents, and even movies in your presentation. One caveat is that the WXGA resolution - which to my eyes never presents a problem elsewhere - starts to show up when PDFs are on display. Full A4 sized documents are quite readable, but do lose their crispness. However, the projector's digital zoom function can be switched in to bring up detail when wanted.
The projector has a "SonicMode dual integrated 2W speaker system" which although necessarily compact has three preset sound optimisations: "Speech" to give a lift to the spoken word, "Entertainment" for music and movies and "Standard" for general use. For personal listening (and much better sound) a useful improvement over the earlier model is the addition of a 3.5mm audio out port. So it's now possible, simply with a suitably loaded USB memory stick, a pair of headphones and this almost pocket-sized projector to cheer yourself up with a movie show wherever you happen to be.
Ah, yes - movies.
In order to rig up the PLED-W800 I had to unplug the £2,000+ high end home cinema projector I'd been using, thinking that a few hours without it would do me no harm. The little Viewsonic device has a standard photography quarter-inch screw fitting in its base, so it's easy to stick on a camera tripod. Wired up to a Roku Streaming Stick via a Yamaha RX-V6777 AV receiver the projector very pleasantly surprised me with the home cinema quality I was getting from Netflix. We're talking about a 100" diagonal screen thrown across about 10ft onto a plain whitish wall. The colour gamut is much improved over the earlier model, and with careful focussing you can get a very crisp picture, although the focus does tend to drift over time.
Yes, I missed the lens shift and optical zoom facilities you get with higher end kit, but this was forgotten once I got stuck in to watching movies. In fact the PLED-W800 stayed in place as my standard projector for well over a week. I can't claim it was in quite the same league as the big gorilla it replaced (which is more than ten times the 0.8 Kg the ViewSonic weighs) but the picture was certainly good enough for me to postpone switching back until the time came to return it.
Conclusion
Although primarily designed for the business travel and education markets, this 175mm x 51.5mm x 138mm (width, height, depth) makes a smashing little home entertainment machine, particularly where space is at a premium. It runs cool - a chocolate bar left on top of it would probably still be good to eat after a two hour movie - and according to ViewSonic the LED illumination has an expected life of 30,000 hours, meaning there are no expensive lamps to replace. Official ViewSonic price: £499. What's not to like?