A Desktop Mono Laser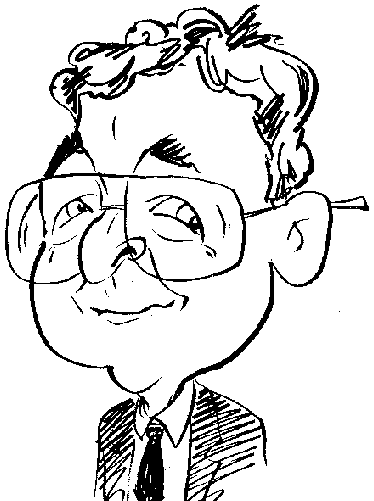 "It ain't heavy, it's my Brother" could well apply to a new desktop mono laser printer from Brother.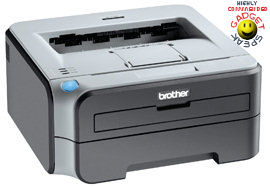 While inkjet printers can product excellent results with regards to quality, the running costs of such a device can quickly mount up as replacement cartridges are required on a regular basis. An economic and viable alternative, especially when colour is not called for, is a desktop mono laser printer. Compact in size, a fast print speed and quality output plus high capacity toner cartridges all add to the appeal of such a device. The HL-2140 laser printer is Brother's latest model designed to fit into this category for the home/office environment.
Although it would not win any beauty contests, this is, after all, a work tool rather than a decorative piece of furniture, the HL-2140 does have a certain appeal. The corners of the printer are nicely rounded apart from the front left corner which is concaved as if to help highlight a blue button. This button glows to indicate when the power is on and is certainly large enough not to require any highlighting assistance. Coloured in dark slate and light grey, the HL-2140 dimensions are 368 x 361 x 171mm. It weighs in at 5.8kg thus making it easily transferable from one location to another.
Setting up the printer is a straightforward. Easy access to a compartment at the front allows you to quickly insert the supplied cartridge - the cartridge that comes with the unit is rated at 1000 pages rather than the more productive offerings (1500 or 2600 pages) on sale when you need to purchase a replacement. At this point I should praise Brother on their practice of supplying the necessary postage-paid means to return any used cartridges back to the company for recycling purposes.
Before attaching the printer to a computer, you do need to install the provided software first. A sticky label covering the USB port on the printer reminds you of this. Once the software is installed and the printer connected via USB 2.0 (lead not supplied) then it will be recognised by the operating system and you will be all ready to go.
The paper input tray slots into the front of the printer. This tray is capable of holding 250 A4 sheets. A pull-down panel, just above the paper tray, can be used to feed non-standard or one-off media when required. However as there is no paper support for this option, you will need to feed each sheet manually. If you need a straight-through paper path, useful for when thicker media is involved, then a drop-down panel at the rear can be opened but you will require extra space behind the printer.
An array of small LED lights representing toner, drum and error warnings are situated just above the power light. A flip-out paper support is provided to help keep any printed items from disappearing over the front edge of the HL-2140.
Brother has rating this printer as being capable of producing up to 22ppm. I have to admit that I took this claim with my customary large pinch of salt (totally disregarding personal health matters). I was therefore very surprised when my tests almost managed to duplicate this figure. The HL-2140 allows you a choice of 300, 600 or 1200dpi print quality.
In each case, using my standard 102-word document, I was able to get 21ppm. I was unable to detect any noticeable difference between the print qualities achieved and felt each one was more than adequate for most, if not all, home/small office tasks. Adding a small monochrome image to the document had no affect on the print speed or quality of the printed page. If I was not perfectly happy with my current laser printer then I would seriously consider the HL-2140 as a replacement.
Supplied with 8MB of memory, the Brother HL-2140 has been priced at £89.99. At the time of writing Brother was not displaying any prices for consumables on its website but I was able to track down some prices on the printerbase.co.uk site. The TN-2110 cartridge (1500 pages) is listed at £29.38, the TN-2120 (2600) costs £44.68) and the DR-2100 drum (12,000) will set you back £55.23)
http://www.brother.co.uk/g3.cfm/s_page/50670/s_level/36180/s_product/HL2140ZU1