Epson EH-TW490

Published Feb 13, 2014 Author
bidmead
Review controls
Very decent home cinema projectors can now routinely be had for around 500 quid. But how do you pick a winner you'll be happy to live with from this cheap and cheerful bunch? As the TV industry hurries us ever upwards towards 4K (four times the number of pixels in a regular HD TV screen) punters tend to view pixel count as the prime requirement. Chris Bidmead thinks there are more important factors to look out for.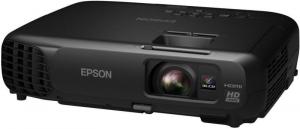 click image to enlarge
Epson's entry level EH-TW490 is "HD Ready". It's a confusing industry label (designed to confuse?) that in this case means it projects a screen into which it's possible to fit a 720x1280 pixel matrix with a few pixels to spare at the top and bottom. Hang on, though? Isn't that not much more than half what a true 1080p HD screen ought to be? And can't I pick up a proper 1080p projector for around the same price?

The answers are yes and yes. And my response is fergetaboudit. We're talking home cinema here, not radiography (where picture resolution really can make the difference between life and death). In the context of movie watching, here are my priorities:


The movie itself - story, characters, production.

Aspect ratio (Ugh! my kids tend to watch 4:3 stretched out to 16:9 "cos we like to fill the whole screen")

Colour gamut (TV in stores like to have the colour screwed up to eye-aching heights of chrominance)

Brightness, contrast and black level.

Sound quality

Ease of setup

Pixel resolution.
I've spent the last several weeks watching movies on the Epson EH-TW490's bright, colour-accurate screen with friends and family, and the response has been "Wow", especially when I revealed the price (£550 inc VAT on Amazon UK). Nobody bothered to count the pixels. I've long been of the persuasion that "720 is plenty", and for screens up to about 50" diagonal viewed from a comfortable distance (about 10 feet) most experts seem of the same mind. But I find that for unfussy home cinema you can push that to 100" before pixel count becomes an issue, although at that size full HD will admittedly offer a slight benefit in crispness if you're looking for it. But if you're looking for it, you're probably not enjoying the movie.

Another compromise the EH-TW490 makes is the lack of lens shift, the feature that allows you to reposition the screen without having to move the projector. If your projector is big and heavy this feature's a must. But with a light, portable projector like this one – it weighs only 2.4kg and is 297x234mm in size – physically moving the project to put the screen where you want it is no great hardship. A classy feature many entry level projectors lack is that the focus and zoom rings are geared together, so the picture stays crisp whenever you zoom in or out.

If the image isn't square on to the screen – or, in my case, just a blank wall - you're going to get trapezoid distortion. Epson provides a simple slider mechanism to correct this - purist home cinema aficionados loathe this idea, but it worked well enough to give me many hours of happy viewing.

Contributing largely to my pleasure was the brightness of the projector. A typical machine at this price will use a single DLP chip – essentially a mono device - providing colour by firing the light beam through a spinning wheel divided into segments of red and green and blue, possibly with some intermediate colours thrown in. Usually a plain transparent segment will be included to brighten the lighter scenes. The manufacturer's officially declared brightness in lumens will typically relate to the maximum brightness through this colourless segment.

Epson believes that a more truthful lumens count should measure the screen brightness of the colours hitting the screen. Its 3000 lumen spec derived on this basis certainly matched my experience, which was confirmed by some elementary lux meter tests I carried out.

The glossy black design, with elegantly rounded corners, should blend in well with any living room or office environment. A sliding cover protects the lens when not in use, and a well-made woven shoulder bag is provided for transportation.

To my eyes the only serious shortcoming of this very competent small projector is the weakness of the black level. Unlike modern DLP projectors the black pixels don't shut out the light completely, tending to give dark scenes an overall grey-ish sheen. The dynamic iris feature helps to compensate for this by physically throttles down the light source for low-light frames, but it's surprisingly noisy in operation. In quiet surroundings you might want to switch this feature off.