Pentax MX1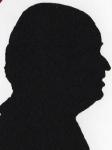 Review controls
This is a small but powerful digital camera from Pentax. Having recently tested myself on a DSLR offering I now downsize but not as far as 'point and shoot' as this digital camera has a lot to offer yet it can still fit in most pockets.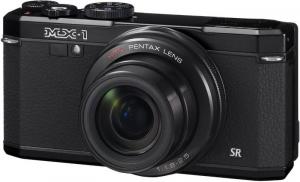 click image to enlarge
It is 12.5x6x6cm the last figure the width is with lens cap on and the unit switched off. Add 3cm to the width when switched on and fully zoomed in. The body is metal and that is why the units weight is 398grams.
12MP may seem small as some less impressive units offer as much as 20MP but its how good the sensor is to give the quality and depth of the overall images taken.
The left side has only the manual flash slider, the right side has a flip door behind which are connections for PC/AV and HDMI. The base has a tripod screw and a door behind which the solid battery and any SD card you use live. The front has anchor points on each end for the neck strap and the 6-24mm lens.
This leaves the top and back, the top has the flash which pops up and is a minimum of 5cm above and to the left of the lens. Next the ten position wheel. Now things double up at the back the on/off button that glows green when power is on, in front of this the silvered shutter release with wide angle/ telephoto control around it. A further control wheel (Exposure Compensation Dial) to change settings between -2 and +2, this feature is often only available levels down in menus and on the front edge the quick video capture button.
The rear has a 6x4.5cm TFT screen that sits flat but slightly proud of the back of the camera and it can be hinged out from the top to point 45degrees down ideal when shooting from over heads of others. It can also hinge up to 90degrees which can also be useful. To the right of this a somewhat wider area than with most digital cameras and this has a column of four well marked buttons with the ubiquitous five position joystick mounted to the right of this with the menu button below it and the rubberised thumb grip above it. This material continues round the side to the front so that wet or sweaty fingers can still get a good grip when capturing images.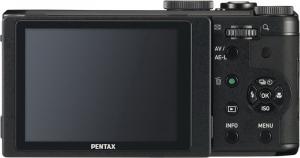 click image to enlarge
The aspect ratio can be 4:3, 16:9, 3:2 and 1:1 dependant on image size. The file format can be JPEG, RAW or RAW + JPEG. The capture sizes are 12MP, 7MP, 5MP and 3MP in 4:3. In 16:9 they are 9MP, 5MP, 4MP or 3MP. In 3:2 10MP, 6MP, 4MP and 2MP. Finally for 1:1 9MP, 5MP, 3MP and 2MP. All can be captured in fine or normal. So in JPEG alone 32 different file sizes are available.
Movies can be captured in 1920x1080 (Full HD) at 30FPS. It can also take 1280x720 in both 30 and 60FPS.
There is a small 28 page Quick Guide but for more information there is full manual supplied on CD-ROM, this also contains some rather good image software.
There are no less than 23 scene modes. It comes with two shake reductions mode that combine to give better images than would otherwise be available.
I will provide a second link at the end to the Pentax site so you can see the extra things that it can do that I have not had the space or chance to test.
This is certainly far more than a point and shoot offering but for the novice user they should be able to put it in Auto mode and get rather decent images without much more than normal care and attention. However put the time in and learn your camera and then well for a pocket camera this can be very good indeed.
The Pentax MX-1 is available from the link below for £382.37with free delivery.
http://www.amazon.co.uk/gp/product/B00AYAQM3U?ie=UTF8&tag=gadge0a-21&linkCode=as2&camp=1634