Maxfield Max-Joy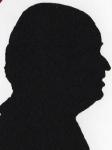 Review controls
This is an MP3/WMA USB player and voice recorder that is aimed at kids. Not only does it have 256MB of built in memory but can also play content on SD/MMC cards.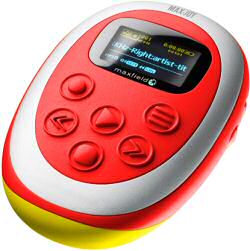 It is 8x5.5x2.5cm and weights only a little more than 50grams. Apart from the rather garish colours -red and yellow- I see no reason why it should only be the domain of kids. It does have a 60DB sound limit and the blurb says the market is for 6-12 year olds. The top edge has input for the provided headset, mini USB and the on/off switch. The left side has the hold switch and the right side two buttons to decrease and increase the volume. The back of the Max-Joy is slightly curved convex so if put down it will rock back on it's base.
The front has a 2.5x1.25cm display in blue and yellow and it is very clear even when displaying up to five lines of information. Below the display are six rubberised buttons that control the player and the .Wav recording. If you slide the back off you reveal the slot for the one 'AAA' battery that lasts around ten hours, this cover also hides the entrance for a SD or MMC card. You are warned that using a card will lessen the battery life.
This is a German product and while a dual language CD is supplied and a Quick Start Guide in English as well as one in German several other leaflets with offers are only supplied in German.
There is a half cover - it leaves the controls and screen uncovered - and also a belt clip also a lanyard that can allow it to dangle from a wrist or go round the neck. The Koss headphones while naturally small to fit a child's head expand easily to fit an adult these come with a fifteen year guarantee.
Transferring files to and from the device is drag and drop from My Computer, plug the unit into a USB2 port and Windows finds the device and installs the required files. If you have Windows 98 or 98SE a driver is provided on the CD. I only have one PC with USB 1.1 ports now and although every other device is recognised this was not and even when the device is removed no sound from Windows so I assume this is only a USB2 device although I could find no such warning on the box or in the Quick Start Guide.
Playing MP3/WMA files was fine, the volume level was good but not extreme - something that is currently receiving some publicity in relation to children - there are a whole range of (six) sound styles that can be set. After a set time the normal display blanks until any key is touched and you get a scrolling Hello rather like a screensaver.
I was very pleased with the sound recorder quality although it is not as sensitive as some other units I have used - volume limiting? - the outcome from anything recorded within a few metres was quite acceptable. Voice recording only works on the 256MB of internal memory, the recording quality is 32mbps that means four minutes of recording take around 1MB of space.
If you are worried about battery costs it is possible to use rechargeable ones but of course they last less than the 10 hours of a conventional 'AAA' battery.
Price should be around £48 and it is available from
www.amazon.co.uk