Doro PhoneEasy 520X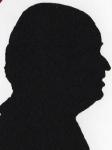 Review controls
Doro are the biggest UK name in phones for the hard or hearing or those with limited sight. I have looked at at several designs and shapes over the years. So when one arrives with a new feature it immediately gets my interest.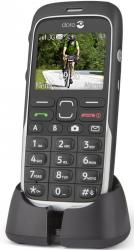 click image to enlarge
The Doro PhoneEasy 520X measures 11.5x5x1cm and weights 93grams. Things you now expect and get from Doro, are different colour schemes for those sight is poor, very loud ring tones for those who hearing is poor, big buttons for ease of use for those who have difficulty in being precise with movements and now a back that is simple to remove using a coin twist mechanism to easily remove the back by turning a screw through 90 degrees. A simple thing that I am sure others will soon follow with.
Early Doro models did not even have a camera, now as far as I know all do. However this is definitely a phone and is designed not for sending messages but making and receiving calls.
There are two slightly raised push buttons on the left to lower or increase the volume. On the right a single button to turn a torch on or off. There is also a clearly marked charging connection. But as some find fitting a cable difficult it also comes with a simple drop in cradle which means the user can just charge without needing to find out which way the lead fits, superb if the user has limited hand movements or very poor sight.
The screen is 3x3.7cm and as stated is very bright and the colour schemes can be changed to suit those with poor sight, they may look strange to those with good sight but certain colours are far more visible to those with poor sight.
Below the screen are three columns of buttons, the numerals are .7x1cm with .5cm clearance all round each button, they need a positive push.
The top row has a soft button on each side whose task varies according to what screen you are on but they are always well marked. In the centre of this row is a large rocker button to let you switch through the menus. The second row has a green answer on the left and a red end call and turn phone on/off button the right.
The row below has four buttons marked A, B, Camera and email. The last four rows are 1-9 on the first three and * 0 # on the last row.
Early Doro phones never had earbuds with the answer ability in them and if my memory is correct they were not always 3.5mm. Now with the phone in your pocket no one need know you have and disability.
One thing has not changed and that is a decent manual 72 pages in a decent typeface with clear consise instructions about how to do everything.
When you remove the back to insert the battery the way the SIM and any memory card need to be inserted is shown clearly in the phone as well as in the manual.
To switch the unit on press the end call button for three seconds. To switch off press the end call button for around half that time and then answer yes to Power Off. Boot up takes around ten seconds but it may be a little longer before your SIM is recognised.
The first 'extra' to be included in a Doro phone was an FM Radio, next Email and then a Camera. Now there are all three and best of all Doro phones work on any network so just swap your SIM and move to an easy to read phone with a loud ring tone and volume levels to suit.
Doro have always supported ICE as well an Emergency button on the back. This means with the 'A' and 'B' buttons three people can be targeted if you are in difficulties and having ICE the emergency services know who to contact as well as important medical information.
A phone of this type can enable someone with a disability to remain able to live an independent life.
The Doro PhoneEasy 520X is available from the link below for £106.95 with free delivery.
http://www.amazon.co.uk/gp/product/B00B9EE8Z4?ie=UTF8&tag=gadge0a-21&linkCode=as2&camp=1634