A Brother Multifunction Device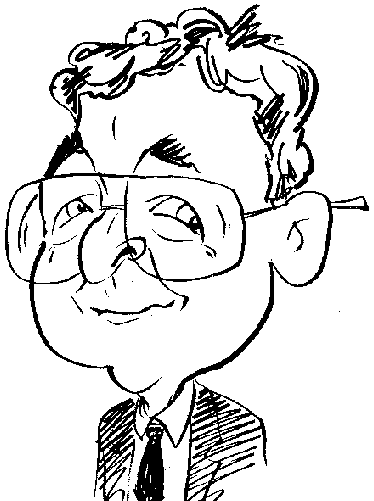 Review controls
Brother continues to develop its range of multifunction devices. This latest model is aimed more at the office rather than home users.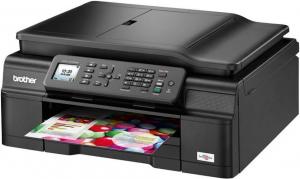 click image to enlarge
The Brother MFC-J470DW multifunction device follows the normal convention of mounting an A4 flatbed scanner on top of an inkjet printer. Along with the usual functions of Scan, Print and Copy, the device adds Fax, Duplex, ADF (Automatic Document Feeder) and Wi-Fi capability into the mix. Matte black in colour, this multifunction unit adopts a basic box shape with dimensions of 410 x 180 x 374 mm (W x H x D). The depth measurement does increase to 519 mm when the output paper support flap is extended.
As mentioned the flatbed scanner module is located on the top of the device. This scanner's lid has a raised front lip for easy lifting and the built-in ADF unit. Documents are automatically fed from the ADF to the scanner and then are passed to the printer for reproduction.
The front of this multifunction unit does give the impression that Brother has put some thought into giving this device a touch of style. To this end a kind of curved stepped arrangement, incorporating a dimples speckled look, decorates the front of the unit. I found the look quite appealing.
Protruding at a set angle from the stepped area is the unit's control panel. Situated on the left of this panel is a 4 x 3 cm colour LCD (Liquid Crystal Display) providing feedback regarding status and information regarding settings and the current activity. Immediately to the right of the LCD is a column of four buttons for switching between Fax, Scan, Copy and Web modes. Menu navigation buttons come next, followed by a telephonic alphanumeric pad plus stop/exit/ mono and colour start buttons.
Positioned below the control panel is the paper input and output area. The removable paper input tray has a capacity of up to 100 A4 sheets. To avoid printed documents being scattered all over the place, there is an extendable support flap built into the top of the paper input tray. A further 20 sheets of paper can be loaded into the ADF module.
Setting up this multifunction device is straightforward with the individual steps being covered in the supplied Getting Started booklet. As usual the USB connection socket is located within the innards of the device and is joined by the FAX connection with this model. To gain access to this area you need to raise the top of the unit and there are flaps on either side of the unit to help with this purpose.
For a while now Brother has been leading the way in making it easy to insert and replace inkjet cartridges. This model requires four cartridges (Black, Yellow, Magenta and Cyan). These need to be inserted into an easily accessible compartment on the right front corner of the box. Once the cartridges have been inserted, an automatic check will be carried out. This can last up to four minutes and a Print Quality Check sheet will be printed.
Various options are provided for linking this product to a wireless network. These options include using WPS if your router supports this technology which allows a quick and easy set up with the minimal of user intervention. Once a connection has been set up, either via Wi-Fi or USB, then you will be advised to install the provided software which includes drivers, Brother MFL-Pro Suite and Nuance PaperPort SE12 plus a link to a Brother website for setting up various Cloud based services. I found this process to be extremely time intensive with a number of instances when I thought the process had hung but it eventually managed to complete the task and then required a reboot of the system.
You may have noticed that I have made no mention of any connectivity options for accessing content on a flash stick. The reason for this is that this feature is not present with this model. Its omission, when paired with the FAX functionality, marks this multifunction device as being more suited to an office rather than home environment.
The FAX feature gives you a choice of four resolutions, namely Standard, Fine, Superfine and Photo in either 8-bit monochrome or 24-bit colour. A Speed Dial feature can hold up to 40 stations while groups of up to six are supported plus a mail-out broadcast of up 90 by combining Speed Dial with manual dialling. Up to 170 pages can be stored in memory for transmission with a similar capacity for incoming message when the paper supply runs out.
The A4 flatbed scanner is capable of delivering an optical resolution of 1200 x 2400 dpi, increasing to 19200 x 19200 interpolated. When the ADF module plays its part then the resolution drops to 1200 x 600 dpi. Depending upon your operating system, the scanner is compliant with TWAIN (Windows & Mac), WIA (Windows) and ICA (Mac).
When using the scanner in conjunction with the printer in photocopy mode, an A4 monochrome page took 18 seconds while a colour document required 23 seconds. Feeding a 10-page document through the ADF, which will automatically recognise the present of a document, the process took 140 seconds to complete.
The print driver supplied with this multifunction device offers a choice of Fast, Normal or Best quality. The following table lists the pages per minutes I was able to achieve using my standard 102-word monochrome and colour documents.
Brother MFC-J470DW

| | Monochrome | Colour |
| --- | --- | --- |
| Fast | 22 ppm | 20 ppm |
| Normal | 19 ppm | 13 ppm |
| Best | 5 ppm | 3.5 ppm |
All the three different quality levels produced reasonable text although you will probably prefer to use Fast for internal documents. Colour graphics were a little disappointing with banding making an appearance in Fast and Normal modes but not Best quality or when the scanner was involved. Brother has priced this product at £108 with replacement cartridges at £23.99 for Black and £15.59 for each of the three colours.
http://www.brother.co.uk/g3v1/g3.cfm/s_page/215760/s_level/36230/s_product/MFCJ470DWZU1