Samsung 48inch Curved LED TV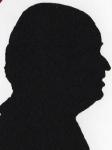 Review controls
While I have seen TV's with curved screens, in fact I seem to remember one vendor claiming it had the first one in the UK. Now around a year later I get one to review. This 48inch offering from Samsung has a great deal to offer.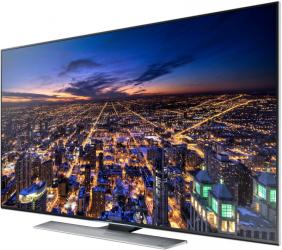 click image to enlarge
106x62cm is the height and width but this does take into account the up to 6cm concave in the central area of the screen. To work out the size of the screen would be beyond my 'O' level maths so in this case I take Samsung's word that it is 48inches using the diagonal imperial measurement method.
The stand is made up of two semi circles the front larger one is 88cm wide at the two edges. The rear semi circle is 55cm at the edges and they face away from each other. So unless you are wall mounting the unit you need an 88cm wide table with at least 24cm of depth.
So what of the curve you really do not notice it. I tried at my normal viewing position, then closer, and then further away. Even at reasonably well to the sides the image still looks normal. However it means you get a larger image in less space.
As always today a TV is more than just a TV. While the 'standard' TV has an input for aerial this has that and inputs for satellite as well. Down the right edge are two USB2 sockets, a USB3 socket, four HDMI sockets, There are also external RGB and infra red ports. Along the base not only the aerial and satellite connections but also an array of RCA sockets, optical out and finally an Ethernet socket.
Picture quality is excellent, sound quality satisfactory and there are numerous modes of both to try for sport or films etc. My one gripe is that it comes with two remote controls surely today everything could be incorporated in one unit. The things I am talking about are external services that can be used on the TV via Ethernet or Wi-Fi. For those who want or need it then 3D is part of the offering.
You can connect this unit to an aerial or to satellite, using the former found a total of 125 channels, 83TV, 24 radio and 18 data.
The whole range of services BBC iPlayer, ITV Player, 4 OD and Demand 5 as well as You Tube. There are also Netfix, Muvi and others but these need a subscription. All can be accessed by the Smart Hub button on remote 1 and then move to remote 2. To try to be fair the second remote works in a different way but surely the two could be incorporated together.
This is the smallest in the new Series 8 range but my lounge could certainly not accommodate anything larger I think the range goes up to 65inches.
I was fortunate enough to have this for review during a hectic time for sport on TV and the excellent PIP (picture in picture) mode got good use. To have a 35x20cm window showing another channel allows you to keep updated.
Unpack it and setup will take around 30 minutes which includes screwing the stand on, tune in – the autotune found 87 TV channels, 26 radio and 21 text – as part of the setup you need to enter your post code and here its fussy you cannot enter only the first four characters which is surely all it uses and even the full seven part code has to be exact. There are seven screens to get through and page six is an update that takes ten minutes so that's how it takes 30 minutes from opening the box.
Finally I return to its unique feature the curved screen, you think it will be strange it isn't and within a few minutes you do not even notice it.
The Samsung Series 8 with a 48 inch screen is available from the link below for £1499.
http://www.currys.co.uk/gbuk/tv-dvd-blu-ray/televisions/large-screen-tvs-32-and-over/samsung-ue48h8000-smart-3d-48-curved-led-tv-10010414-pdt.html