Cello 32inch Curved TV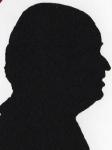 Recently I visited HMS Belfast and saw the whole range of Cello TV's including the recently reviewed Battery TV offering, here is something that is a first for me in TV's a curved screen offering although I have reviewed a couple of computer panels that have curved screens.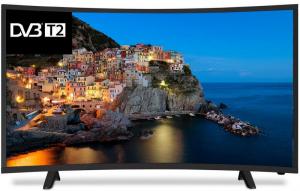 click image to enlarge
This is their smallest curved TV at 32inches. My normal TV is a little larger but I choose the 32inch for logistical reasons, Cello place their stand supports towards the end of the TV and what I sit my TV on would not be wide enough to support anything larger.
Having moved my TV further back and unplugged my aerial input as well as the HDMI connection between my PVR and my TV I was ready to assemble and install the Cello in front on my own TV it weighs just over four kilos.
It is just a matter of finding a Philips screwdriver and removing the two plastic bags that contain the two feet from the box then the four screws from the bag that contains the remote control, the batteries and instruction booklet.
The feet are labelled L and R as the amount behind and front of the screen varies, once attached put the TV in place and attach the mains lead, co axial lead and HDMI cable and switch on.
After selecting country and language then the auto channel search which took around three minutes and it found 126 TV channels, 33 radio and 18 data a total of 177 including one of the newest I have located on Freeview called 'Free Sport' on channel 95.
The TV is 73x43x2.5cm the two feet give it a 4cm lift from whatever you place it on. For me the vital measurement is 56cm the distance apart of the two feet and also the width of what I stand the TV on.
The actual amount of curve is 2cm in the middle and while this initially looked a lot by the time I was used to the smaller screen the curve also vanishes from my view, it is more noticeable when you view 4:3 older films that have large borders down each side.
Normal start from standby is around 6 seconds but for those who cannot wait there is a fast start mode but that of course means you use more power in standby.
I found teletext rapid in action as opposed to my somewhat older TV.
The 55 key remote control is well laid out but of course certain keys move around from remote to remote everything centres on the five key joystick control in the centre.
Now to change source to HDMI and turn on my PVR everything worked correctly, this unit has three HDMI ports whereas my TV only has two it also has a USB input as well as a VGA so it could also double as an output for a PC.
There is an option for wall mounting with an optional kit.
I found this a very easy to use TV with good colour and contrast and also better sound quality – and more of it – than with a lot of TV's.
For those occasions when the dog hides the remote there are basic controls on the right side edge of the TV, a video is on the second link below.
As far as I can see there is just one drawback with this HD Ready TV it's the 1366x768 resolution rather than full HD.
The Cello 32inch Curved TV is available from Amazon for £179.84 with free delivery.