Acer Aspire One D260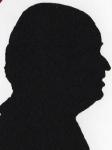 Review controls
This is another small Netbook. Here with Windows 7 Starter edition and Office 2010 Starter. So although everything is 'basic' it does mean that you are still using the program and tools that almost any modern business does.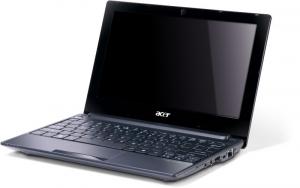 click image to enlarge
The Acer Aspire One D260 measures 25.5x18x2.5cm and weights only 1200grams. The visible screen is 22x12.5cm giving the diagonal 10.1inch measurement. On this the 1024x600 display is clear sharp and readable even in sunlight, or direct light.
There is an 85 key keyboard that is just about touch typeable for a stubby fingered man like me. The alpha and numeric keys are 1.5cm deep and 1.6cm wide while the function keys and a few of the symbol keys are smaller.
There is a 3cm strip behind the keyboard only occupied by the on/off button and part of the large Li-ion battery. There is only a .5cm border on both sides of the keyboard with a 5.5cm strip in front of the keyboard.
The trackpad is mounted in this area 8cm from the left and 10.5cm from the right and it fills almost the entire strip in between with a 1cm silvered rocker button for the mouse control on its front edge. The area around the keyboard is in two tone grey that negates the fingerprints it undoubtedly has why then is the shiny black screen surround not in the same colour scheme as this does show every finger mark. The lid is a two tone brown which shows marks when in the light.
The left side has DC input, VGA outlet, and, two USB ports. The front has four pin hole LEDs while the right side has mulit card slot, headphone and microphone sockets a further USB port, Kensington lock connection and an Ethernet port. The back is clear apart from the large battery that the screen just clears over.
I used this unit over a two week period and as always I test battery life both using no wireless and with wireless turned on for part of the time. The figures I found were very good in fact so good that I repeated them and were almost exactly the same. They varied very little, my workload was mainly in Word and Excel with some lighter use including a game or three of Freecell but the important thing is that the screen was kept active and never allowed to blank. I will give the mixed figure that is around 25% of the time wireless turned on at 8hours and 40minutes on a single battery charge, of course by this time is was pleading to be connected to mains but that is what I call a working day it included a good amount of hard disc use and transfer of data to and from SD card and USB sticks.
The startup time is an unremarkable 55seconds and shutdown 30seconds. Shutting the lid while on results in a 15second delay once a key is pressed on reopening the lid till you are returned to exactly where you were before you closed it. Remember though if you do not have a password set its one click to get back to see your work.
I used Skype both voice only and voice and video using the built in webcam and microphone so unless your conversation is private there are no need for external microphones and earphones.
Apart from Windows 7 Starter, Office Starter, a range of Acer utilities and games are provided along with trials of McAfee Security and Norton Backup.
Windows Experience was 2.4 Processor, with 3.0 Gaming Graphics, 3.1 Graphics, 4.5 Memory and 5.3 Hard Disc. The hard disc is stated as 160GB but only 146GB is available as both operating system and Office are in a protected area. The processor is a 1.66GHz Intel Atom N450. As with almost all Netbooks you have 1GB of memory.
This Acer Aspire One D260 is available from the link below for £249.97 with a full copy of Bullguard
http://www.saveonlaptops.co.uk/Acer_Aspire_One_D260_971091.html
www.acer.co.uk/acer/productv.do?LanguageISOCtxParam=en&kcond61e.c2att101=81438&sp=page16e&ctx2.c2att1=17&link=ln438e&CountryISOCtxParam=UK&ctx1g.c2att92=842&ctx1.att21k=1&CRC=2616248851