Alba Personal MP3 Player (4GB) with SD Card Slot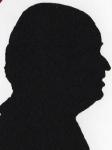 Review controls
This unit is tiny, it will easily fit in the palm of your hand but that does not stop it having a decent display and lots of memory that can be further expanded by adding an SD card
Buy Now
Alba 4GB MP3 Player
£39.99 from Argos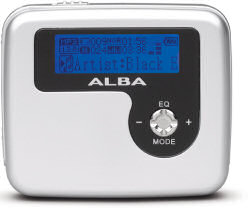 This Alba 4Gbyte personal MP3 player is 5.5x4.5x1.5cm and the weight with it's single 'AAA' battery inserted is less than 50grams. The front has a 3x1cm LCD display that does not stop it having a very readable three line display that appears black on pale green (with backlight off) and black on pale blue (with backlight on). The unit is black with a sort of silver/grey border around the LCD display and joystick.
Everything is controlled by a five position joystick control on the face just below the LCD display. The left side has an earbud socket and mini USB socket. The right side has the insertion point for an optional SD/MMC card. The top has the 'hold' slider and that is it.
It will work with any Windows PC from 98SE onwards, there is a mini CD provided for those on 98SE. Others will just find it and automatically allocate it a drive letter in My Computer, so you can just drag and drop files to it.
Documentation is sparse (I checked the mini CD, not even a PDF file just the 98SE driver) there is an Addendum giving details of how to install this driver. The only other piece of paper is one offering 35 free downloads from emusic. This leaves the back of the box that gives the contents and has a diagram showing where the controls are located. Finally after I had worked most things out I found the small user guide hiding under the box tray that has the items listed below in it.
I am told they also do a 2GB version that apart from having less memory (and being cheaper) is identical. The box has a set of earbuds the 'AAA' battery (good for around 10 hours) and mini USB to USB lead.
This unit, apart from playing MP3/WMA files, can also be used as a voice recorder that is surprisingly good given that the pinhole microphone is invisible hidden around the edge of the mini USB socket. Recordings are stored as .wav files and are made at 32mbps so around four minutes of recording take up around 1MB or space either on the internal or SD card should you have one attached.
When you plug the device into a PC you get two icons, one for the internal memory and one for an SD card. You always get two drive letters so beware if you do not have an SD card inserted as it will still show as a letter in My Computer, much the same as a four slot card reader appears with four drive letters.
The unit can be used as a 'data mule' and you need to check that it is not in this mode before you can transfer music to the unit. I found that the icons in My Computer change from a standard icon to an Audio Player one when in music/speech mode.
It comes with a six position Equalizer (normal/pop/rock/classic/jazz/bass as well as a custom setting however this, as well as some other features, are in a menu that cannot be reached unless you have at least one mp3/wma track stored in the internal memory.
I worked with this unit for sometime before I located the manual, I do not think that it made a great deal of difference (apart from the recording mode) as I had found most things by trial and error - after all there are only so many positions a five position joystick can occupy. Perhaps the most frustrating was trying to set the Equalizer when there were no music tracks stored in internal memory. I just did what the manual said but still could not get into Equalizer sub menu.
This unit is tiny and 4GB should give you plenty of music to choose from however having two or three SD cards with different Genres of music could be the way to go to suit all moods and occasions. Having something so tiny moves voice recording to a new level of ease.
Doing my Internet search found the Alba Personal MP3 Player (4GB) at a best price £39.99 from the link.
http://www.argos.co.uk/static/Product/partNumber/5135877.htm