Sony Smart B-Trainer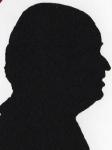 It looks like a round neck pair of in ear buds. It is, so you could use them as a simple music player however it is also a 'Wearable Music Player with Fitness Tracker, so it can play music in a beat to match your heart rate (pulse).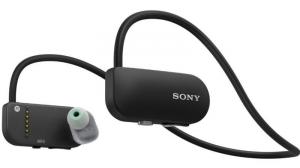 click image to enlarge
12cm across and 12cm tall would match the non-twisted size of these buds, each ear has a 5x2.5x1cm unit in front of the bud and their total weight is only 42grams.
It would be totally wrong to describe this as a music player even though it can play music. It is a trainer with a full box of tricks, it knows when your heart rate (pulse) is too high as it takes your pulse from your ear, I am sure most of us can take our pulse from our wrists but from your ear requires a good sensor and this is built into the trainers buds.
So before you venture out download the App from the iOS or Android store and then tell it all the normal facts like height age weight and more.
The motto running throughout this product is Plan-Train-Review-Next Step. Each training session you do is tracked via GPS – unless you train deep underground – and then you can play it back to see where you can improve.
There is a global support site to offer help and advice so if you prefer to train alone there are still people able to offer advice.
The Plan bit is all down to you and your SmartPhone, details like when and how long, and then there is music provided on the phone that changes according to your heart rate so 100 beats per minute is totally different to 160 beats per minute. As stated you have entered various details on your phone and it warns you when your heart rate is too high for too long.
So for those who want - or need to - say lose weight special fat burning sessions are part of the regime. There are links to Asics for those who take things very seriously.
A total of six different sensors are built into the buds – as stated they are not just there to play music – heart rate (pulse) has already been mentioned, an accelerometer, GPS tracker, compass, gyroscope and barometer. Remember the higher you are in the world – from sea level – the thinner the air so what you might do easily at sea level is a lot harder at two thousand metres above sea level.
All these factors are measured and stored so as I have mentioned before this is far more than a music player as it measures heart rate (pulse), calories burnt, distance, time, speed, pace, pitch, steps, stride, route and altitude to help you become fitter. But during your training you will learn the reason Sony called it a 'B' trainer.
There are different sizes and types of earbuds in the box along with a waterproof zip up case to carry the B-Trainer around. The trainer itself can be washed under a tap as even the fittest will sweat. The internal battery needs charging – mine was totally flat when it arrived – and there is a USB to five pin lead supplied so as this is proprietary don't lose it.
The Sony Smart B-Trainer is available from the first link below - and more information is available on the second link – for £229.99 with free delivery. For those with fashion sense other colours are available.
http://www.amazon.co.uk/gp/product/B01245HDZI?ie=UTF8&tag=gadge0a-21&linkCode=as2&camp=1634