Ricoh Digital Camera WG-4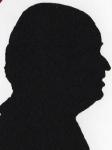 This is a small digital camera that can be used in 'Auto' mode to give you nice images, however should you want more then it can also help you learn and set you on your way to capturing great images should you wish to progress.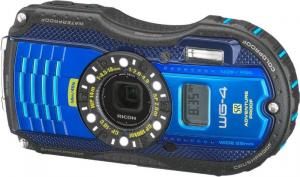 click image to enlarge
The Ricoh Digital Camera WG-4 is a small Waterproof unit that follows the recent Ricoh course of having built in levels and even a clock on the face, I can see the point of knowing you are capturing a straight image on land but if you are under water why should it matter, as for the clock!
It is 16.5x6.5x3cm and weights 235grams. The right side has a chunky wrist strap, the left side is semi circular and has nothing. The base has the tripod screw at the right end and a double action to open the door behind which are the solid battery and any SD card you insert. The top has two buttons on/off with a LED in it and the shutter release. The face has the 4xoptical zoom lens with the flash 2.5cm above and to its left, below the flash is the digital clock which displays vertically. A few words on the zoom before I move onto the back of the camera, it is an internal zoom which is essential for anything designed to work under water as any protrusion would tend to let water in.
The back is dominated by the 6.5x3.8cm TFT display. To its right are three pairs of buttons the lower two pairs are split by the ubiquitous five position joystick.
The extend of my underwater testing was holding it under water in my neighbours fish pond and taking some pictures of his Koi until they seemed to find me of interest and wanting to nibble my fingers.
Using it for more normal – for me – tasks produced some excellent images, I was especially pleased with those at one of my regular gigs that has a lighted stage but a rather dark area in front that musicians tend to prefer to stand as it is cooler in front of the lights, normal 'auto' flash would not fire as there is plenty of light but images tend to be a little disappointing as people in the foreground are not well lit, however with forced flash the images are fine.
I always try during my test period to capture images out and about. Capturing at higher resolution means that zooming into the image on the computer can still give an excellent A4 image. The 4x zoom worked efficiently as it is internal there is no movement even when in a windy environment but of course use a tripod in these conditions.
There are a total of eleven sizes available from 16MP to VGA and unless I mention it they are all 4:3.
16MP, 12MP 1:1, 12MP 16:9, 7MP, 5MP 16:9, 5MP, 4MP 16:9, 3MP, 2MP 16:9, 1024x768 and 640x480.
There are three video modes all at 30FPS 1920x1080 and two 1280 modes.
I rarely get to mention Macro mode but it works well here. The majority of my tests are down at the basic 'Auto' mode but there is a rather good manual mode that allows you far more control over your images.
The Ricoh WG-4 is available from the link below for £292.48 with free delivery.
http://www.amazon.co.uk/gp/product/B00IBIEK68?ie=UTF8&tag=gadge0a-21&linkCode=as2&camp=1634