Griffin iTrip FM transmitter for Apple ipod. Play your ipod through your car radio.

Published Dec 9, 2006 Author
bigal
Play your ipod through your car radio via an FM channel. Still illegal in this country. But only just.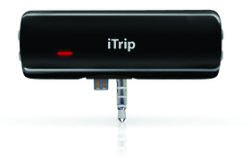 I recently took delivery of a beautiful shiny white 30GB Apple ipod and was anxious to use it to it's full potential, which of course mean't playing it whilst out driving.
I had run my last MP3 player via a cassette adaptor, but was determined to make the ipod in car experience as wireless as possible. Skimming through the internet for solutions brought up the Griffin ITrip FM transmitter. Griffin manufacture many ipod accessories and have a good solid name for quality, so off I went for the cheapest deal possible. Currys digital £34.99.....Amazon UK £18.99....no contest. It never ceases to amaze me how prices for the same item can vary so much between suppliers.
So the item arrived and off I went to my car. The iTrip plugs into the ipod via the dock connector at the bottom. It is a beautifully simple gadget with an LCD display showing the FM frequency and comes in ipod white or black, complimenting the ipod of your choice. The operation of the beast is simplicity itself. Plug it in, turn on your ipod, find a free channel on your car stereo with just static (in my case 107.3FM) adjust the iTrip with the dial on the side to the same frequency and off you go. At this point I should mention that it is still (technically) illegal to hijack an FM channel for personal use without a licence, so in essence using the ipod in this way in the UK could get you nicked. However the law is about to change next year to make it legal (as in the US and most other EU countries) so I shouldn't worry. This kind of activity doesn't even show up on the old bills radar.
So the verdict..well It works sort of. The quality of the sound, was non too hot I'm afraid. The natural sound quality of the ipod is lost. Background hum was intrusive on quieter tracks, and as the ipod was powering the iTrip the battery drains as well. As I turned up the volume the hum got louder , and changing frequencies did not improve matters.
I was disappointed in the iTrip overall. Nice to look at, easy to get on with, but did not do a great job.
I sent it back to Amazon straight away, and looked elsewhere.