Documents and Film Scanning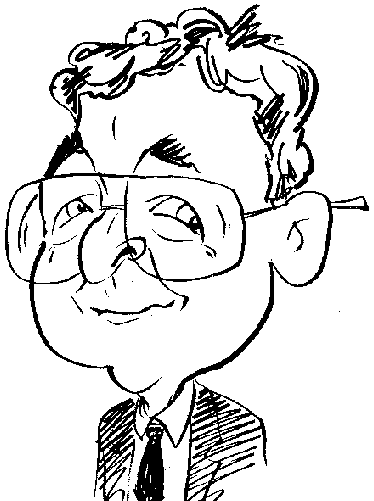 Review controls
Unlike the various types of printers which tend to arrive without the required USB lead for connecting to the computer, scanners are more fortunate in this respect.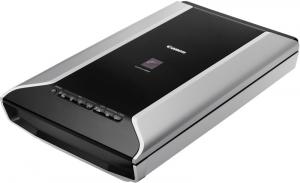 click image to enlarge
The CanoScan 8800F comes with both power and USB leads. This model has recently taken over the desk space, normally the home of my CanoScan LiDE 90 unit, for the purpose of this review. Decked out in matt silver and reflective black, the CanoScan 8800F has an attractive stylish, if solid, appearance with its bevelled edges. The effect is diminished a little by the reflective black's tendency to collect and display finger smears.
The CanoScan 8800F is a 48-bit colour scanner with an optical resolution of 4,800 x 9,600 and the ability to scan film strips, hence the "F" part of its title. Larger in every respect than my normal scanner, the CanoScan's dimensions are 272 x 479 x 100mm (W x D x H) and it weighs in at 9.2lbs.
Before connecting the scanner to the computer you will need to install the provided software. A total of five CDs are supplied covering both Windows and Mac platforms. Included among the bundled software are copies of Adobe Photoshop Elements 5.0 (Mac users are limited to version 4.0); LaserSoft Imaging SE; ScanSoft OmniPage SE; Presto! PageManager; and ArcSoft Photo Studio. While some of these items may not be the latest or full featured, it is a reasonable collection covering most tasks.
Once the scanner has been connected and recognised by the operating system then you can make use of the various buttons running across the top of the scanner. Sitting alongside the on/off button are two groups of buttons allowing you to scan documents direct to specific task-related applications. The first group of buttons cover PDF type activity. You can scan in either colour or monochrome documents at 300dpi which will then be converted into PDF. Other buttons in this group allow you to create specific settings and save the scanned images as PDF.
The second group of buttons have been designated for providing a photocopying service with scanned images being sent direct to the printer; scanning an image or filmstrip; and attaching a scanned image to an email message. When you first use any of these buttons, you are offered a choice of possible applications that you can link to and set up for any future action. It was noticeable that this list did not contain all the possible applications currently available of the test system. One notable omission was the total lack of any email client even though both Outlook Express and Outlook were both present on the system. However it was nice to be able to set up other applications other than just those supplied as part of the package.
Canon has rated this scanner as being able to produce an A4 300dpi colour image in 7 seconds. I was unable to match this figure apart from when I used preview mode. The best I could manage with an actual scan was 10 seconds which I felt was reasonable. Switching to 600dpi mode increased the scan time to 24 seconds. Image quality was of a high standard with good colour tones.
Some slight adjustment needs to be carried out when converting this scanner into its transparency mode but this is a straightforward task. You need to remove a cover and then use one of the three plastic adapters that form part of the kit. The adapters cover mounted slides, medium format film and a dual 35mm film strip unit. While a little time intensive, the wait is certainly worth it as the scanner images, appropriate separated into individual images, are of a high standard.
This is a well built scanner which can operate at a reasonable speed as it handles both paper documents and film transparencies. You also get an acceptable collection of bundled software that can be used with either a Windows or Mac system. Windows users will require a Pentium II 300MHz processor, 128MB RAM, 600MB hard disk space running Windows 2000 or later. For Mac users the system requirements are a PowerPC G3 with 256MB RAM, 300MB of hard disk space and Mac OSX 10.2.8 and later.
http://www.canon.co.uk/For_Home/Product_Finder/Scanners/Flatbed_with_Film_Scanning/canoscan_8800f/index.asp