Digital Artistic Tool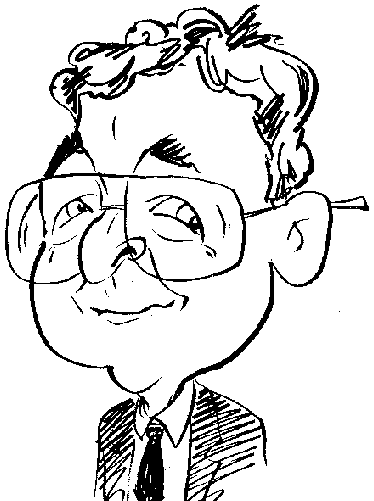 It has been a while since I last took a look at a Wacom device but a visit to a distributor's trade show brought that period to an end.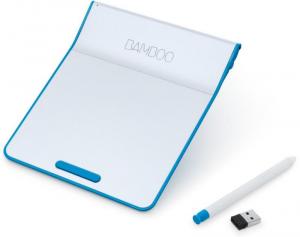 click image to enlarge
While the keyboard and mouse combination can fulfil the needs for desktop system users for the vast majority of tasks, artistic creation is one area in which you could struggle. In my case the lack of any talent in this field would play a major part but that's another matter. Offering to provide assistance in this respect is the Wacom Bamboo Pad. This product is a wireless Touchpad device with digital stylus.
Available in a choice of colours (pearly white with a blue, green or purple trim and, in the case of my review sample, metallic grey with a black trim), this Bamboo Pad has dimensions of 166.5 x 141.4 x 15.7mm (H x W x D) and weighs 172g (including stylus and two AAA batteries which provide the power). The pad has a slight incline at the top which is where you will find the on/off button on the left side and a housing compartment for the stylus on the right. The battery compartment, which can also store a nano USB receiver when not required, is located across the top of the device.
As this is a wireless device, it does require a method of connecting to a computer whether it is of the desktop or laptop variety. Like wireless mice and keyboards, the Bamboo Pad uses a nano USB receiver. This small device slots into an available USB port on either a Windows or Mac system. With this device being eminently portable, I was a little disappointed to discover that Wacom had taken the decision not to include a cloth carry bag in the box to help when transporting the device between locations.
Setting up this device on a Windows system was simplicity itself. You just need to insert the nano USB receiver into a spare port, wait a minute or so for the drivers to be loaded, and away you can go with a device that can act in various ways. At its base level, this pad can be a replacement for your mouse as it takes control of the on-screen cursor.
Initially it might appear that you should control the movement of the mouse cursor by having the stylish in actual contact with the pad. But this is not the case as it can open up features that you do not need at that point in time such as grabbing a number of icons. A better method of using the stylus in this mode is to hover the stylus a few inches above the pad as you direct the cursor in whichever direction you wish it to go. It does a slight adjustment for the long-time mouse user. A small panel at the bottom of the pad provides left and right mouse click options.
This Bamboo pad supports the use of Windows 8 gestures (polite kind only). In this way you can scroll, move backwards and forwards, zoom in and out, show the desktop and bring up the Windows 8 Start screen. You can also switch being applications and close them down, open the applications menu and bring up the Windows 8 inappropriately named Charms feature.
While on the subject of Windows 8, I should mention that Wacom has developed an app which is entitled Bamboo Page. This is available as a free download from the Windows Store. With this app you can create quick notes and sketches using a think and thin pen with different colours produced on various shades of paper. While designed for Wacom devices, this app is happy to work with a standard mouse.
While you can use this device and stylus for the mundane task of controlling your on-screen cursor, the Bamboo Pad is far more useful when used with graphics and painting software. In the hands of somebody with even a modicum of artistic talent, they should be capable of producing reasonable results using this product with their favourite painting or graphics software. My efforts when working with certain software packages, such as Corel Paint Shop Pro, Photoshop Elements and ArtRage, were less successful but this was entirely down to my lack of artistic ability rather than that of the Wacom product.
The layout of the touchpad makes it suitable for both right and left-handed users. Its size is such that you could hold the pad in one hand while using the stylus in the other hand when producing your notes and sketches while sat at your computer. Priced at £59.99, the Bamboo Pad is compatible with Windows 7 or 8 and a Mac although a driver will be required for this platform.