Christmas Gifts Part 2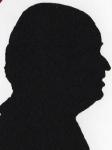 Here two gifts available from Gizoo that tell the time although neither can be said to be clocks. One an adult gift and the other very defiantly for the younger ones.
Fascinations XP3
This is described as a message clock, however it does more and if nothing else it will be a conversation piece on any desk. Maybe an executive toy but for anyone who you struggle to find presents for it would be ideal.
It is 20x20x6cm with a chrome bass and the rest is matt black, the messages appear at the top of the unit. Without scrolling they can be up to 13cm long and the display letters and numbers are 1.5cm tall.
The images are formed by a rapidly moving wand and in daylight there is some flickering - so not an ideal present for an epileptic - at night in a darker area the flickering is considerably less.
There are five buttons just above the chromed bass and these allow you to input messages, this is a fiddly task but unless these change often it's not a great problem. It comes pre programmed with certain greetings and once you have set the time and date - the 8 page manual is essential - then it will display the time and date in various formats and display Good Morning or Good Afternoon as appropriate. You can set either a 12 or 24 hour clock display and either date and month or month and date you choose.
Other messages and greetings can be programmed and things such as Happy Birthday Susan could be great if you have an employee named Susan.
It costs £47.95 from http://www.gizoo.co.uk/Products/HomeGarden/Home/MessageClock.htm
Nobby The Voice Recognition Clock
This is a 19cm tall blue blob of rubber or to be more precise a blue body and neck with a single eye on top of a light blue plastic base. I suppose with the three lumps on it's back it is supposed to be a dinosaur.
If you look closely at the base you will see a small LED clock and this is easy to set with the time, you can also set an alarm. However the delight for the younger ones is that if you speak to it you get an answer and perhaps a comment. However should you ask Nobby for the time he will tell you and add a little comment - all polite - after it. Perhaps the most offensive is 'who got out of bed the wrong side this morning'
It will work on batteries (not supplied) or for the slightly older child a power adapter is supplied and it works fine either way.
Mine actually arrived with the microphone facing the rear meaning my initial efforts were less successful but once I realised this twisting the base so that it was as the front produced understandably better results.
The website does warn you that the speech recognition within the product works better - it certainly does - when run on the provided power adapter.
It costs £19.95 from http://www.gizoo.co.uk/Products/HomeGarden/Home/NobbyClock.htm