HP Photosmart C4180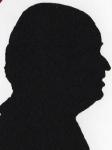 This
All In One
is functional in design however when the job is to print, scan and copy appearance is less important than delivering the goods and this it does with the added plus of six ink quality.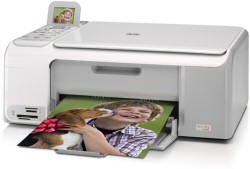 The HP Photosmart C4180 is a rectangular box, 32x27x15cm and when the paper tray is lowered with paper in it the middle figure increases by another 15cm. However I am not decrying it for being rectangular or functional it does it's job well so what does shape matter. It is of course light grey - maybe a sin as far as the fairer sex are concerned - but it does what it should.
This is a two cartridge printer, it is either four ink or six ink, to explain there is a basic 3 colour cartridge and either a single black or three slightly different shaded colours to give six ink printing. Should you need to print text while in six ink mode the black produced is pretty good and a lot better than a lot of other printers manufactured black.
Doing a full install took 920MB of hard disc space and took 26 minutes including a reboot.
Lets start with printing and the ubiquitous 200 word document in draft mode this printed at a very acceptable 20PPM in four ink mode and a still acceptable 16PPM in six ink configuration. The 1500 word document spread over four pages came through at 15PPM in four ink and 12PPM in six ink.
Now onto printing images onto photo paper, here I used six ink mode exclusively and the time taken for an A4 borderless page was close to four minutes, the output was excellent. Printing a range of two, three and four images per A4 page was between 210 and 250 seconds, again the quality was very good.
This All In One can print direct from the more popular camera cards and here a 15x10cm image - with or without selvedge - took 2minutes while an A4 image or either two or three images on an A4 sheet between 3½ and 4minutes.
There are a total of 23keys on the left side of the flat top of the unit with a 5x3.5cm TFT display above them that can be tilted up by up to 90degrees from the back to avoid reflections. To the right of this is flatbed scanner that opens landscape front to back. On the left front edge are the four card slots while the left side holds a dispenser that fits into the base of the unit for easy printing of 15x10cm images this means you do not need to change the adjustment from whatever size paper you normally print on.
The rear - left side of back - has the USB and power adapter sockets.
The software provided can give as much support as you wish, while the amount of control when printing direct from cards is not huge you could always insert them in a card reader to import into the PC and then the help and adjustment provided is greater. However for printing images without much adjustment the software within the printer is fine.
Probably most copying will be while the PC is off or not even connected and using the buttons on the top of the unit but you can also copy direct from the PC in normal quality a black copy takes around 20 seconds and a colour one just over 30 seconds, all my copies were clear and very readable.
If you give the unit a clean crisp page to scan it should produce a good electronic copy, I was perfectly happy with these scans, you can scan either for the built in OCR and output to a package or leave the scan as an image, either way the supplied software worked well. Lots of choices available within the software and whatever your level of computer expertise you should be getting good results with this unit.
So far no gripes and my only minus point is that nowhere is provided for the cartridge not in use should you have both the four and six ink options, other units provide a holder for the not in use cartridge to stop it drying out, a piece of sellotape over it is not the best idea but is perhaps the only choice as of course inks are the most expensive part of any inkjet product. Now if a holder for the spare cartridge and somewhere to put it had been provided within the unit I would have seriously considered a 5x5 award.
Doing my Internet searches found the PhotoSmart C4180 at a best price of £52 including delivery from the first link below :
http://www.amazon.co.uk/gp/product/B000GHTBHK