Motorola MOTOROKR EQ5

Published 13 Sep 2008 Author
petew
While headphones are a very convenient way of listening to your music it's good sometimes to go for the more traditional approach and listen through speakers. The EQ5 from Motorola are a small set of stereo Bluetooth speakers that double up as a speaker-phone.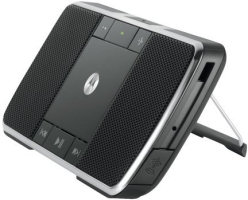 The Motorokr EQ5 definitely fits into the portable category measuring 115x65x15mm (WxHxD) - almost identical to the iPod Touch. Very easy to slip into a pocket or bag. Build and design quality are both very good with a black fascia and silver trim and this is matched by a pretty good, although bass-light sound. A small but surprisingly stable wire stand folds out from the rear.
The primary audience for these speakers are those with Bluetooth enabled media players that support the Advanced Audio Distribution Profile (A2DP). That's quite a long list these days. For those without a suitable media player right now but that hope to upgrade soon, there is also a standard jack socket allowing you to connect to non-Bluetooth devices - this will work with an iPod for example.
I tested the device with the Sony Ericsson K800i and with both an iPod Touch and iPod Nano. I was lucky enough to have Motorola D650 Bluetooth adaptor for the iPod available from a separate review (see the picture below).
Sound quality was very good considering the size of the unit although as I'd expect is somewhat limited in bass. The result was somewhat tinier than I prefer though perfectly acceptable as a travel unit. At lower volume the sound quality was very good. The top of the volume range was sufficient to fill a room, but the lack of bass was then significantly more noticeable.
Charging is via a supplied mains adaptor with a claimed eight hours use from a full charge.
Status is reflected by (yet another) multi-coloured light at the top of the device. This can display five separate colours (blue, yellow, green, red and purple), which when combined with various combinations of slow and fast pulsing is used to represent no less than 14 different pieces of information. For the colour blind amongst us I would just like to scream one more time NO! In normal operation the light pulses slowly around once every 4 seconds in what I read is green to indicate that music is streaming. At first this is a very pleasing effect. After a while though, and particularly in low ambient light condition this does become more than a little irritating.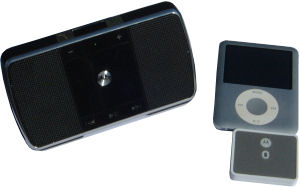 Operation as a speaker phone was very good with audio playback immediately pausing when a call is received, or you make an outgoing call, and then resumed on completion of the call. The quality of calls made this way was very good with little or not perceptible echo.
The EQ5 will pair with several devices simultaneously so for example you can use both your phone and a separate media player. In this mode once more the audio stream is paused when a call is received. This mode of operation worked well when I tested with the iPod and Sony Ericsson at the same time.
As long as you don't expect outstanding bass the Motorola EQ5 make an excellent set of travel speakers that take very little space. The eight hour battery life is very good and should get you through the best part of a day.
The price direct from the Motorola shop is £69.99, which is probably a little on the expensive side. Shopping around I found the EQ5 for £59.50, including shipping, from an Amazon partner. Still a little expensive but they are very new :
http://www.amazon.co.uk/gp/product/B0019MCQIW?ie=UTF8&tag=gadge0a-21&linkCode=as2&camp=1634

The price direct from the Motorola shop is £69.99, which is probably a little on the expensive side. Shopping around I found the EQ5 for £59.50, including shipping, from and Amazon partner. Still a little expensive but they are very new :
http://www.amazon.co.uk/gp/product/B0019MCQIW?ie=UTF8&tag=gadge0a-21&linkCode=as2&camp=1634

Shopping around I found the EQ5 for £84,89, including shipping, from Amazon. Still a little expensive but they are very new :
http://www.amazon.fr/gp/product/B0019MCQIW?ie=UTF8&tag=gadge04-21&linkCode=as2&camp=1642