Help with DIY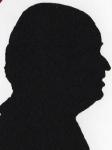 Review controls
Two tools for different jobs that can help you do them without disasters. The first locates those hidden things in walls like pipes and cables so you don't screw or drill into them. The second allows you to get a straight line to work from.


click image to enlarge
Bosch PMD 10 Multi Detector
When was the last time you tapped a picture frame pin or a screw into a wall? A lot of newer houses do not have picture rails – very useful for hanging pictures from – in fact often walls in new houses are not solid at all.
So you need to find battens in order to nail or screw anything in. What you do not want to find are the other things lurking behind walls like electricity cables and gas and water pipes, your attempt to save a few pounds by doing it yourself immediately negates itself should you manage to find any of them and if it's the gas it could be disastrous.
It is 23x9x3.5 with an offset at the handle end so in effect it is 6.5cm deep. The total weight is something around 400grams.
It runs on a 9volt battery and can find electricity cables up to 50mm away, studs up to 100mm deep, pipes up to 80mm deep and finally wooden battens up to 25mm deep.
The face of the unit has a 5x2.5cm display and five buttons clearly marked as to their purpose. Move down the handle to a sliding door to insert the 9volt battery into. This is a tool with just the purpose of detecting either to find for attaching or to find in order to avoid. Whichever way it is used it works and I now know where several cables are that I could easily have caught with a nail or screw causing possible shock at the least.
The Bosch PMD 10 Multi Detector is available from the first link below for £69.80 with free delivery
http://www.amazon.co.uk/gp/product/B0054IR1EG?ie=UTF8&tag=gadge0a-21&linkCode=as2&camp=1634
http://www.bosch-do-it.co.uk/boptocs2-uk/DIY/Tools/GB/en/hw/Detectors/95289/PMD+10/28182/3165140624787
Bosch Quigo
This is even more of a one thing tool as its sole job is to make sure that you have straight lines but it is just as vital.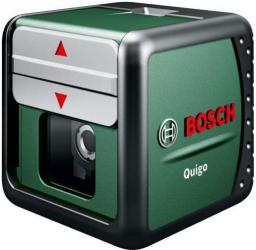 click image to enlarge
Ok it is useful should you want to hang wallpaper and if you get it straight the only problem could be is it the right way up!
However for other jobs having straight lines could be more important and especially those of a structural nature.
The other thing this tool gives you is an extra hand as it can be clamped in position allowing you to use its laser line at a distance that would only be possible with most other tools by having an assistant to help. Of course if you work alone and still muck it up then you have only one person to blame.
Giving a height is misleading as it must include the clamp but its 19cm; the head unit that sends out the laser is 9x9cm.
It runs on two 'AAA' batteries and gives the line both vertically and horizontally. It also has a spirit level built in so if you put on a table or other non flat surface it enables you to make sure the results are always correct.
So for wallpapering, painting or structural work no one can come in afterwards – and be correct – in saying 'is that straight'. The Bosch site also has lots of useful hints and tips.
The Bosch Quigo is available from the link below for £34.99 with free delivery
http://www.amazon.co.uk/gp/product/B0042RU82W?ie=UTF8&tag=gadge0a-21&linkCode=as2&camp=1634
http://www.bosch-do-it.co.uk/boptocs2-uk/Product.jsp?ccat_id=95298&object_id=26169&ean=3165140606240