Two Items from AWT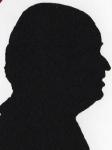 Here I am looking at Kitchen Scales and an Electric Carving Knife from a chef (Antony Worrall Thompson) who graces the TV screens but as far as I know does not throw tantrums that a number of other 'celebrity' chefs do.
Electronic Kitchen Scale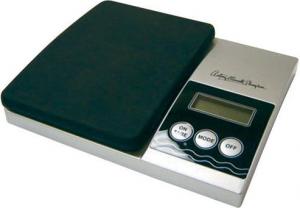 click image to enlarge
The scale is 21x18x4cm and weights 44ograms. The weighing table is 17x13.5cm and is the left portion of the unit.
The scale is powered by two 'AAA' batteries (supplied) that fit in the base. Interestingly it looks as if the scale was designed for four battery operation as the area behind the door is laid out for two rows of two batteries but contacts have only been provided for one.
There are three round buttons below the 4.5x2cm two line display a small top line with various words and the far larger 1x.5cm numeral display underneath.
On and Tare are the words on the first button, Tare is a word meaning (setting to zero) ideal if you already have some ingredients in a bowl and wish to add another ingredient and don't trust your addition or for weighing a container before starting to insert ingredients.
The second button is Mode and this switches from grams to pounds and ounces. While we have been metric for many years and all modern recipes give ingredients in grams there are still thousands of old cook books that don't and of course great grandmother's recipes were nether written in grams.
The third button is off. The black surface of the scale is almost rubberised and is quite non slip and very easy to wipe clean. The area around the scale is clear of any protrusions and also easy to wipe so any spills or marks clean without problem.
Doing my Internet searches found the AWT Electronic Kitchen Scale manufactured by Breville at a best price of £9.99 from the first link below.
http://www.robertdyas.co.uk/P~138315~Antony+Worrall+Thompson+Scale+AWT050
Electric Knife
This is a two parallel serrated each blade offering. The cutting part of the blade is 18cm long although the total length is 30cm. The total length of the unit is 44cm and it has a two metre long electric flex hard wired into the back of the unit.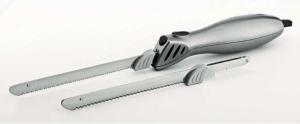 The knife ejects using a button on the front edge of the casing and can be conventional washed and dried. The rest of the case can be wiped clean when required. The only other button is on top of the casing and needs to be kept pressed all the time the knife is in action.
There is a 16 page instruction booklet and this – with plenty of illustrations – covers everything. There are even a couple of illustrated pages with hints on carving.
Do not think of this knife as something only for carving meat as it can be used for bread (I did this) cut pies and even vegetables such as Swedes and Turnips. Certain fruits such as Pineapples and Melons are also mentioned.
Its main use will however always be meat and while meat on the bone can utilise it the best (and easiest) will always be boneless joints and here you can get perfectly even slices as thick or as thin as you like even when carving hot. As with all knife skills carving round bone takes practice as indeed a large knife like this does but with practice results look good.
Doing my Internet searches found the AWT Electric Knife by Breville at a best price of £19.59 from the first link below.
http://www.argos.co.uk:80/static/Product/partNumber/0504953/Trail/searchtext%3EANTONY.htm
Both items are viewable on www.breville.co.uk