STM's Vertical Laptop Bag

STM has introduced a vertical laptop shoulder bag in which the computer is stowed vertically rather than the normal horizontal. This turns out to be a remarkably comfortable way to carry a machine together with its basic accessories, possibly an iPad, and some paperwork and so many people may consider it a viable alternative to the conventional ones.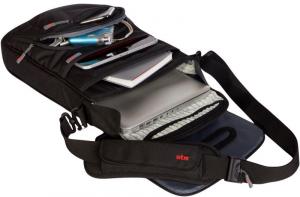 click image to enlarge
Designed to accommodate the majority of 15inch laptops it weighs just 0.9kg and is constructed, mainly, out of 300D water-resistant micro rip-stop polyester. As well as the padded grab handle there is a removable shoulder strap that can be adjusted over a wide range to suit user needs. My preference was to have a very short strap so that my elbow stopped the bag swinging around. Others may choose to have a far longer strap going diagonally over the shoulder. In either case, the padded shoulder pad could be moved along the strap to a suitably comfortable position so as to spread the load.
The laptop slides snugly into its compartment which has high-density foam padding and a soft plush cord lining. Immediately in front of that compartment is a full height one for papers etc. There is a short Velcro flap which covers both compartments and, essentially, holds the laptop firmly.
In front of these pockets is a further padded one designed to accommodate an iPad but which could equally well be used for other material such as a (paper) notebook. The zipped organiser pocket, which also has a concealed zippered pocket inside it and also one on its outside, has wide elasticated straps to hold the laptop's power brick (if it's not too large), mains lead, USB cable and a memory stick in place. Other items, such as a mouse, could also be dropped into that compartment.
The main flap, also with a Velcro closure, although not full length covers all these compartments and has itself a quick access zippered pocket for items that one may need to access in a hurry. As the Velcro fastening is about 7cm from the lower edge of the flap, after a while, there is a tendency for the lower edge of the flap to stick out and look unsightly. However, there is a design trade-off as, by having the Velcro in this position, it is unnecessary to release the flap to get at the zip pocket underneath.
Overall, this STM vertical laptop shoulder bag is ideal for the minimalist person who wants the lightest bag and wants to carry the minimum in the way of computer accessories and work papers etc. as it does not provide much room for much else even though there is a full length rear pocket which is ideal for items such as newspapers. Nevertheless, despite the fact that there are many cheaper bags, at £54.95 it does not seem overly expensive if one takes into account the quality of the bag and the value of the laptop that it is intended to protect.