Kingston USB3 Media Reader and 32GB Micro SD Card and kit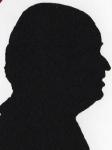 Kingston are a large supplier of memory, here I am looking at a large capacity micro SD card, but first a card reader for a range of cards. A lot of people do not know that certain versions of Windows will not read USB3 card devices.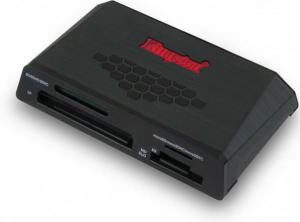 click image to enlarge
In fact Windows XP will need a new driver to be able to read the larger capacity – over 8GB – devices. Today with huge file sizes 8GB is often too small, a word that was popular a few years ago when things fitted in less than 1GB was bloatware, now of course its large video files that are the main culprit.
Kingston USB3 Media Reader
Externally this Kingston product looks like a lot of other multi card readers. However once the industrial scissors have been employed to remove it from the heavy plastic packaging some differences become clear.
The front of the unit is slanted upwards while both sides have chiselled edges, the top has a slightly raised diamond type pattern in front of the Kingston logo.
The base has two lines of a slightly grippy rubberised material to help it to sit on your desk. The back has a USB3 port. The USB3 lead supplied is 1metre long, the other end will also fit in USB2 ports but of course the added transfer speed of USB3 will be lost.
There are five card slots in the front on the face of the unit the bottom right is for M2 and MS/DUO. The one above this is for MicroSD. To its left is the standard SD card port with the now less popular Compact Flash port below this.
A total of eight card types are mentioned on the insert card in the packaging but of course the other types fit in one of the five slots detailed.
When a card is inserted in the card reader the red Kingston logo on the top lights, it flashes while being read and stays on when details are completed. The light also flashes while data is being added to the card.
As all card slots are given letters it is possible for more than one slot to be read at once a feature that a lot of card readers do not have. However unless you are sure which card has which letter it is possible to get confused. Perhaps the best way is to name the appropriate cards with names which can be done quite easily.
The Kingston USB3 Media Reader is available from the link below for £15.21 with free delivery.
http://www.amazon.co.uk/gp/product/B005ES0YYA?ie=UTF8&tag=gadge0a-21&linkCode=as2&camp=1634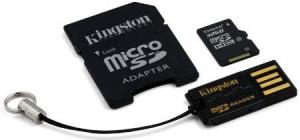 click image to enlarge
Kingston 32GB Micro SDHC Card
At least the packaging can be torn open unlike the item above. Most recent smartphones now support up to 32GB of storage on a micro SD card and this class 10 device is one of the best available.
Not only do you get the 32GB micro SD card but also a micro SD adapter which enables micro SD to be read in standard SD card slots when inserted in the adapter. This adapter is supplied with a lot of cards and is quite common.
What is not common is the micro SD to USB adapter that is also supplied. A lot of older PCs and notebooks do not have a SD card port but of course they all have USB ports so data can be transferred to and from your micro SD card.
So the days of being out and about with your smartphone or camera and having to change cards could now be at an end with large capacities such as 32GB.
The Kingston 32GB Micro SDHC Card (Class 10) is available from the link below for £22.35. There are card only options from £15.10 but they are only Class 4 which will transfer data at a slower rate.
http://www.amazon.co.uk/gp/product/B00519BEQO?ie=UTF8&tag=gadge0a-21&linkCode=as2&camp=1634