Large Backpack VAR702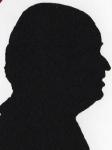 The Ultimate Carryall, Elite Backpack, and now it's actual name Solo New York and as we all know everything in New York is big and this backpack is no exception, perhaps so good they named it three times is slight overkill but your laptop and much more will all fit inside.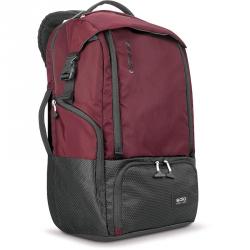 click image to enlarge
It is 52cm from base to the carry handle on the top. It is 30cm wide all the way from bottom to top and 16cm deep at the base and up to 14cm deep at the top.
The back has a pair of 7cm wide shoulder straps which have subsidiary straps for width and depth towards the base so whatever your size it can fit snugly to your back. The outside closest to your back is padded and pimpled for breathability.
A full depth and width opening with a zip that goes across the top and 12cm down each side allows the easy insertion and extraction of your notebook, up to 17.3inches is stated. This area also has an open pocket 25cm deep and 22cm wide for documents.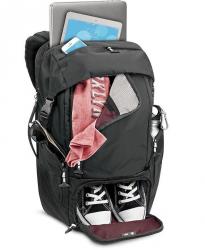 click image to enlarge
The front of the backpack has a small 12x26cm pocket which also acts as an overhang rain protector for the main front fall open zipped area where all your computer extras or perhaps a change of shirt and underwear etc. for an overnight stay can live. This area goes right down to the base of the backpack a full 16cm below the upturned 'U' shape of the zip that is 32cm on each side and 20cm across so a good opening area around 12cm deep.
There are two more zipped areas on the inside of the outer cover a vertical zip up the central area that is 14cm long for a 19x18cm pocket and above this a 15cm long horizontal zip with a toughened pocket 18x7cm ideal for keys, pens and other sharp objects.
I mentioned the carry handle on the top and there is also one on the base in the same comfortable material. So those times when the backpack needs to be carried are catered for.
Just above the base there is another smaller 'U' shaped zip area which according to the website is for shoes or laundry. Finally both sides have a top and side zip up pocket suitable for things like a water bottle.
It comes with a five year warranty.
Mine was black but according to their website it is also available in a burgundy colour it is nylon material, it is described as lightweight at 1.8lbs which is less than .82kilos, this is of course when empty.
Available from their website below for $86.99, shipping charges are included in the USA.
https://www.solo-ny.com/varsity-elite-backpack-lightweight-17-3-var702?color=Black