Terratec Grabby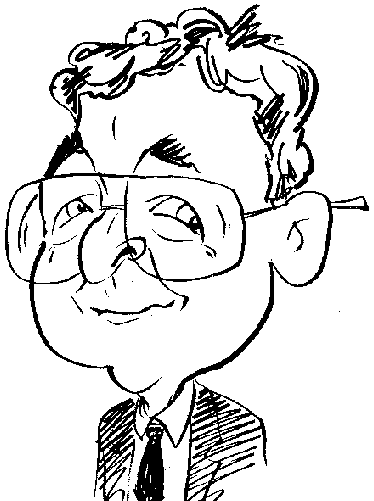 Maybe, like me, when you were a young child you were told not to be grabby when treats came around. Now Terratec wants you to ignore this advice as you use the company's product to convert your analogue VHS tapes into digital content stored on your hard disk or optical media. Appropriately enough this product is entitled Grabby.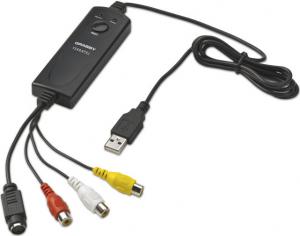 Working in conjunction with Magix's Movies on DVD software, the Terratec Grabby is a USB style flash stick device. The flash stick element measures 96 x 32 x 12mm. LED lights for power and recording feedback are provided along with a button to activate a quick record feature. Permanently attached to one end are leads for connecting to the audio left / right channels and Video In of your VHS player. These connections are colour coded to help make sure they attach to the correct socket. There is also an S-Video plug.
At the other end is another permanently attached lead with a USB plug for inserting into an available port on your computer. Presumably the permanently attached condition of the USB lead is a recent addition as the supplied instruction sheet indicates that the user will need to attach this lead to the Grabby device. A generous 112cm length of lead is supplied for the USB connection. An extension lead of the same length is provided, if required, for linking to whatever is the chosen source device.
Installing the product is straightforward once you ignore the misinformation regarding attaching the USB lead to the Grabby device. After installing the Grabby you can then move on to the Magix Movies on DVD software. Although it does not mention it in the rather brief documentation, whether the printed or PDF variety included with the product, you could find that Movies on DVD does not automatically link to the Grabby device. By default the Magix software detects any video source device, such as a webcam or TV Tuner attached to the computer, and initially selects whatever comes first alphabetically. It is an easy matter to change this setting by selecting the Grabby from a list provided by the Magix software.
As mentioned earlier, there is a button on the Grabby that is meant to provide a single press option for activating the transfer and recording of data. Unfortunately I was unable to get this feature to work. At the time of writing I have no explanation as to why this feature failed to work. However I was able to transfer and record content by clicking on the record option found in Movies on DVD.
This software provides an on-screen view of the video clip as it is transferred from an analogue source and converted into digital format. You also get real time updates as to the recording time and file size. Various settings regarding record quality can be adjusted. You can assign a file name and indicate the destination folder. Once converted, you can edit the video content by removing unwanted sections plus inserting a title, fades and effects. The resulting clip can then be burned to DVD media.
When working with short clips, of up to 30 minutes in length, the Grabby device performed without any problems although there was a slight tendency for it to become warm to the touch. However I did encounter a problem when attempting to convert longer clips. At around the 39 minute mark, the process would freeze and the recording would stop. No data would be lost and you could work around the problem by opting to record in smaller chunks and then splicing the pieces together.
The Grabby requires a system with a 2GHz processor with 512MB of RAM, 800MB of hard disk space and USB 2.0. You will also need a further 5GB of hard disk space for burning data to DVD. The software requires Windows XP SP2 and later. Terratec has priced the Grabby at £49.99.