Emtec Movie Cube

Published Feb 21, 2008 Author
petew
Review controls
I've been looking forward to reviewing this product - from a brief reading of the literatiure sent to me I was hoping it would be an ideal product for my multimedia and data backup requirements. An inexpensive video recorder and network attach storage unit with the ability to stream my video across my home network.
Update : Just after this review was published Emtec came back to us with answers to some of our concerns with this product in the form of a new software release. Most of our issues were with software so if/when we can lay our hands on the new release we'll write an updated review!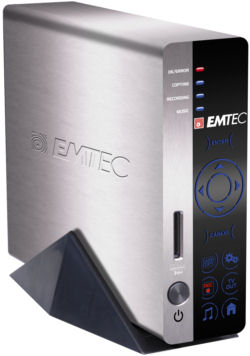 To summarise the product the packaging declares the Movie Cube to be a "Multi-media player with recording function". Reading further we find that it has a 10/100 Ethernet port that enables "Network streaming playback function".
Hardware
You'll see later that this product fell a very long way short of my expectations, but lets start with a look at the hardware. First of all - it is beautifully designed and made - looks great. With power applied the front shows a set of blue illuminated touch sensitive icons providing one touch operation of some key functions.
Physically the brushed steel case measures 203x164x53mm (WxHxD) and so is small enough to be unobtrusive in the living room and smaller than most media PCs. The solid construction comes in at 1.5Kg. Finally you have a remote control to drive the system.
At heart what you have in the Movie Cube is an external USB hard-drive - with some added features that justify the multi-media label and price tag. Those extra features being :
Video in to record external content onto the hard-drive
Video out so you play both video and slide-show content back to an external TV
Component video out
Two external USB host connections by which you can attach two external storage devices - additional hard disks or flash-based drives such as MP3 players
COAX or Optical digital audio out
A 10/100 Ethernet port allowing wired connectivity to your home network
To the front there is a memory card reader supporting SD, MMC and Memory Stick cards
Housed within the unit you have a choice of hard-disk size from 160G bytes through to 500G bytes.
Software and Functionality
With the hardware spec outlined above this product could do a lot. Given the price it should do a lot. Right now though what it can actually do is rather limited. The underlying operating system is Linux based, a particular variant called 'BusyBox' intended for embedded applications. In theory this gives the product access to a wide range of services that could be offered to customers, but Emtec do not at this stage capitalise on that.
OK - what can it do?
Connected to your TV or set-top-box it can record and play-back video. Storage is onto the hard-drive (see later!)
Attach across your home network to play media files from other devices - most likely your home computers
Play either remote or local audio files through your TV or HiFi
Attach to USB storage devices to either play devices stored on those devices
Attaching the device to a network allows it to attach to other shared network drives and browse for media files. The user interface for this is pretty unfriendly - providing a file-system navigation presenting 'up a directory' as '..' (!). This basically exposes the raw operating file system rather than trying to be user friendly.
If you have a specific server, and you know what an IP address is, and you've set up your server with a static address then you can set up a short-cut to it - but only to the server - not to the specific media directory. This function isn't going to be a lot of use to many people and will totally mystify most.
The whole software experience suggests to be a hardware company wanting to add value (no margin in hard disks these days), don't understand software or software user interfaces and didn't want to invest properly in the product by building a software team.
User interface
Although a few functions are provided on the front panel of the device, the main control is via an on-TV display via the remote control. This interface was reasonably well laid out but very slow. On numerous occassions a big delay - with lack of user feedback meant I pressed a button several times only to suddenly wiz through several menus to completely the wrong place.
Video recording
The built in video recorder can be used in much the same way an old VHS system could be used. Either record now, or set a timer. It also offers a version of 'pause live TV'. Once you've recorded your programmes you can play them back to a TV, or to an external DVD or other recorder.
Because there is no TV tuner within the product you're reliant on your external systems. This means you don't benefit from any Electronic Programme Guide (EPG) to correctly select channel and time. In fact it's worse than the VHS days where the VHS recorder had it's own tuner. To record something from TV at a specific time you have to set up the Movie Cube and remember to leave your TV on and tuned to the right channel.
Rather strangely video is recorded onto a separate disk partition. This is completely hidden from the external interface and is completely separate from the 'user' disk. The size is fixed when the software is installed. In the review 320G byte box this partition was around 70G - with the remainder of the disk given over to user space.
Sharing/streaming your media
Where this box should excel is as a multi-media hub for your home network. Given it's network interface, it's location alongside your TV tuner and the potentially huge disk storage you should be able to store all your media right there (with backups of course) and then stream that data to any suitable device in your house - your computer for example. It could even stream live TV from your lounge to your kitchen so you can watch while you cook.
Does it do any of this? No!. Despite being built on a Linux core the software makes no use of the file server functionality offered by such a platform. There is no ability to 'share' the internal hard-disk partitions with other machines. This has two implications. Firstly - you can't back-up data across your network to the Movie Cube from your computer and secondly you can't get at data stored on the device. The only way to do this is via the cumbersome browser interface on the product itself, which can only access unprotected shares.
The only way to directly access your media from your computer is to physically disconnect from your TV and walk it to where you keep your PC and plug it into the USB. Even then there is no way to access the video that you've recorded on the device, which are stored away in a hidden partition. Contrast this with the excellent Humax PVR reviewed recently where USB is provided to copy video from the recorder to your PC.
Security
Very little attention appears to have been given to security of a product that could potentially be attached, via your home network, to the Internet. As an example I was alarmed to find that Telnet (an insecure protocol) was enabled to the box and that the root (super user) account had no password. Not really a problem if you've just using the video recorder, but assuming you're using it as a file backup then potentially all your data is wide open.
Software upgrade
As I said earlier the hardware is very well put together. The software doesn't come close to meeting the the potential of such a unit. But, software can be improved as long as it can be upgraded. This however has also been very clumsily handled. Firmware upgrade is possible, but only via USB and a PC. Worse still - the software upgrade reformats the entire hard-disk, loosing any data you had stored there. Given that you can't actually access the video partition on the device this means you will definitely loose any video you had stored there.
If you compare this with how Digital TV Recorders (DTR) we've recently reviewed transparently upgrade while you sleep, this area needs a lot of work.
Summary
The price of the Movie Cube depends on the size of the hard-disk. As an example the 320G byte version I had for review costs around £173. That's a lot of money. Enough to buy a 160G byte Freeagent USB disk and a Top Up DTR+.
A good idea, pleasing physical design, good quality hardware - very poor software. A couple of years back this might have been an attractive early adopter product and definitely has a lot of geek potential given the Linux foundation.
For those techie people out there - what you're buying is an interesting low-cost hardware platform capable of supporting Linux (on a RISC processor) with built in video capture. I can almost see an open source project based around this platform to realise it's potential!
I can't imagine to whom this product would appeal - it's neither a good multi-media station nor a good external storage system - but is more expensive than both.
For those of you interested (maybe you'd like to start an open source project?), the Emtec Movie Cube - R is available from Amazon as follows :